Name: Terrence W. Liddell
Job title and department: Print service specialist, Postal Services & Copy Center
Employee of the month for: February 2020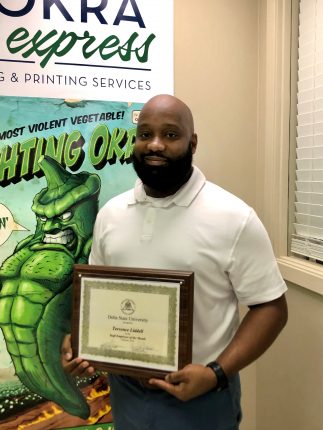 What does this award mean to you? It shows me that my hard work isn't going unnoticed.
What do you like best about your job? The best part of my job is being able to help the customers bring their projects to life.
What do you like best about Delta State? The employees are a joy to work with.
What do you like best about living in the Mississippi Delta? I was born and raised in the Mississippi Delta so living here makes it joy.
Something most people don't know about you? That I am a minister.
The award is sponsored by the Incentives & Recognition Committee and Dr. James Robinson. Each prize package includes a complimentary campus parking decal, box of sweet treats, gift card, a tote provided by Graduate & Continuing Studies, and a certificate signed by Delta State University President William N. LaForge. Each January, a luncheon is held to celebrate the previous year's Employees of the Month as well as to recognize Robinson on the occasion of his birthday.