Name: Katie Stroup
Job title and department: Financial aid assistant director, Student Financial Assistance
Employee of the month for: November 2019
DSU degrees: BBA accounting '11, MPA '13, MBA '13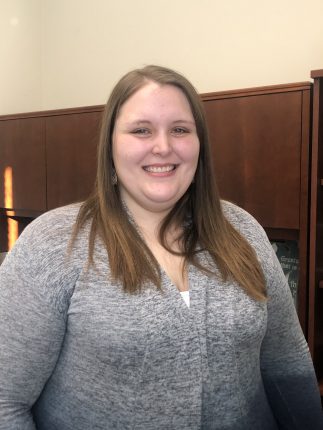 What does this award mean to you? This award is a great honor. When there are so many dedicated individuals on campus, it is humbling to be recognized for my efforts.
What do you like best about your job? The ability to interact with students on a daily basis. Working in financial aid, I hope I am making an impact on students' lives when it comes to their education.
What do you like best about Delta State? The family atmosphere on campus and in the community. When new students and parents step onto campus, they often comment on how hospitable staff and faculty are.
The award is sponsored by the Incentives & Recognition Committee and Dr. James Robinson. Each prize package includes a complimentary campus parking decal, box of sweet treats, gift card, a tote provided by Graduate & Continuing Studies, and a certificate signed by Delta State University President William N. LaForge. Each January, a luncheon is held to celebrate the previous year's Employees of the Month as well as to recognize Robinson on the occasion of his birthday.