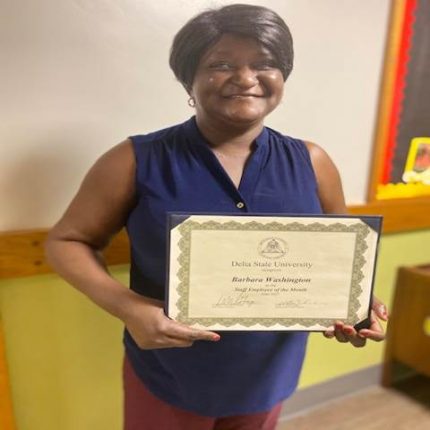 Name: Barbara Washington
Job title and department: Educational Coordinator/Administrative Assistant, Local Government Leadership Institute
Employee of the month for what month/year: June 2021
DSU degrees & majors: I am currently pursuing a Master's in Business Administration from Delta State, and I have worked at Delta State for 14 years. I hold a Bachelor of Science degree in Management Degree from Belhaven College, also.
What does this award mean to you? To me, this award means a great deal of appreciation and gives me a great sense of accomplishment.
What do you like best about your job? The best part of my job is being able to interact between elected officials and the amazing Delta State family.
What do you like best about Delta State? The best thing about Delta State is being a part of a large family.
What do you like best about living in the Mississippi Delta? The best part about living in the MS Delta is the small community atmosphere and the friendly people that live here.
What is something most people don't know about you? Most people do not believe I am a grandmother of 3.
Anything you would like to add? I would like to answer the question, "Why would you chose an education/career in the MS Delta?" I chose a career and to further my education in the MS Delta, at Delta State University, because it is a home away from home and everyone here is family.