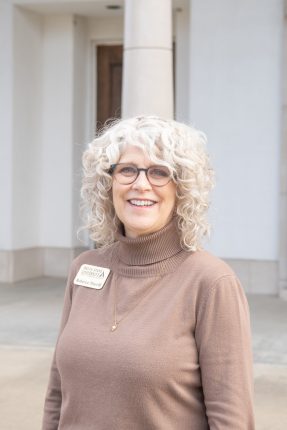 Name: Rebecca Morrill
Job Title, department: Admissions Clerk, Admissions & Recruiting
Employee of the month for what month/year: January 2022
DSU degrees: Bachelor of Business Administration
What does this award mean to you?
This award is a huge surprise and an honor. It means the world to me to know I am appreciated by my co-workers and that the work I do has value. I am honored and blessed to be a part of the Delta State family and all that it represents. It also means I will have to see my cheesy picture on the marquee every day.
What do you like best about your job?
The best thing about my job is the people I work with. Everybody here is so supportive and kind. I really enjoy being part of a team that does all it can to assist students from the recruitment process to the admissions process and beyond.
What do you like best about Delta State?
The people! When we moved from Idaho to Mississippi, I had a goal to go to school and receive my degree. I have loved Delta State since my first day as a student on this campus, and it's the people here who have made it that way.