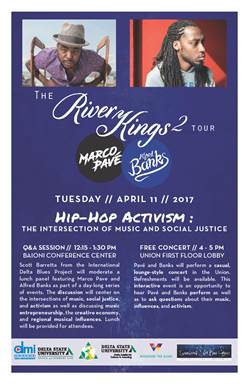 Hip Hop Activism: The Intersection of Music and Social Justice with Marco Pavé and Alfred Banks
A panel discussion will begin at noon on April 11 at the Baoni Conference Center in Broom Hall. Scott Barretta from the International Delta Blues Project will moderate the panel featuring Marco Pavé and Alfred Banks. The discussion will center on the intersections of music, social justice and activism, as well as discussing music entrepreneurship, the creative economy and regional musical influences. Lunch will be provided for attendees.
A concert is set for 4 p.m. in the First Floor Lobby of the H.L. Nowell Student Union. Pavé and Banks will perform a casual, lounge-style concert. Refreshments will be available. This interactive event is an opportunity to hear the duo perform, as well aa ask questions about their music, influences and activism.
All DSU students, faculty, and staff are encouraged to attend. These events are free and open to the public. For more information, contact Michelle Johansen at mjohansen@deltastate.edu