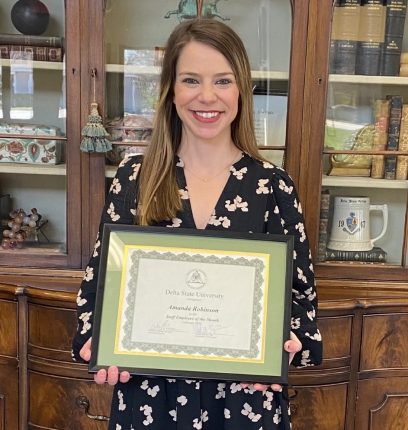 Name: Amanda Robinson
Job Title, Department: Interim Director, Alumni Association
 Employee of the month for what month/year: February 2022
DSU degrees: Bachelor of Fine Arts, 2010
What does this award mean to you? 
I am honored to have been chosen as Employee of the Month. Delta State means so much to me, and it is rewarding to know others have seen how passionate I am in what I do.
What do you like best about your job? 
My absolute favorite part of my job is hearing our alumni stories. I love hearing them reminisce on their days on campus and who their favorite professors were, and even hearing them talk about how much has changed in the town of Cleveland. I also love seeing our alumni chapters making a difference in the lives of our future alumni. Calling incoming students to let them know they have received a scholarship to attend DSU and hearing the excitement in their voices, lets me know our team's hard work is paying off; this is what we are here to do!
What do you like best about Delta State? 
Delta State holds a special place in my heart and I am so blessed to be able to continue making wonderful memories with my family and friends here at DSU.