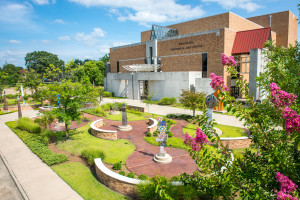 Fall 2023 Commencement exercises will take place Friday, December 8 at the Bologna Performing Arts Center on the Delta State University campus. The 10 a.m. ceremony will recognize all graduate candidates for Master's, Educational Specialist's, and Doctoral degrees. The 2:00 p.m. ceremony will recognize all undergraduate candidates for Bachelor's degrees. Commencement exercises can be viewed online at: https://livestream.com/deltastateuniversity.
Guest Information:
• Guests must have valid tickets to enter the Bologna Performing Arts Center (BPAC).
• There is limited handicap parking available at the BPAC. If you have difficulty finding handicapped parking, please ask parking security for assistance.
• Guests who need wheelchair-access or easy-access seating will have access to limited seating in the BPAC. Easy-access seating is reserved for guests who have trouble navigating stairs. Each guest that needs easy-access seating will be allowed to have one companion sit with them. Upon entry to the BPAC, let the ushers know if you need access to this seating.
• Families and guests are urged to arrive at the doors of the BPAC at least 45 minutes in advance of the start of the ceremony. Please allow adequate time for parking, walking, and seating in the BPAC.
• Guests are only allowed to bring a water bottle, purse, umbrellas (in case of rain), and a camera inside the BPAC.
• Be respectful. Please express your excitement in ways that will not prevent others from enjoying the ceremony or hearing the names of graduates when announced. Please don't applaud as the other graduates and their guests will not be able to hear their names being read.
• Adherence to the University's tobacco and alcohol policy is required.
• Guests are expected to act in a civilized manner. If they cause disruption before or during the ceremony they will be warned the first time. If they continue the behavior, they will be escorted out of the building by security and will not be allowed to return to the ceremony.
• No children under the age of 6 will be allowed in the ceremony unless they are the child of the graduating student. All children must have their tickets to enter the BPAC, regardless of their age.
• Cell phones are to be turned off or on silent.
• We ask that guests remain at their seats until the platform party, faculty and graduates have recessed. Guests in handicap and easy-access seating will be supported in departing the auditorium after the recession.
• Delta State University is proud of our students' accomplishments and success. We appreciate your cooperation in celebrating a major milestone in both the students' and their families' lives. We want everyone to share and enjoy a memorable and dignified commencement ceremony.