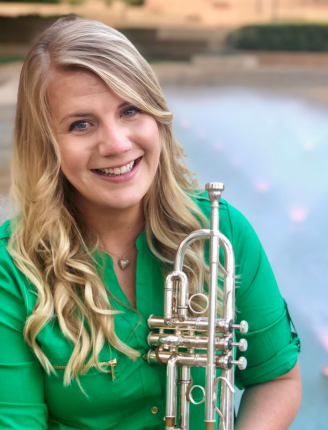 Dr. Megan Bailey, assistant professor of trumpet and horn, will present a faculty recital on Monday, Nov. 18, 2019, at 7:30 PM in the Recital Hall of the Bologna Performing Arts Center. The recital, presented by the Delta State University Department of Music, is free and open to the public.
She will perform works by Libby Larsen, Alessandro Scarlatti, Anthony Plog, Jean Rivier, and Ignacio Calvo. This recital will also feature colleagues Dr. Josh Armstrong, Dr. Laurissa Backlin, Dr. Bret Pimentel, Dr. Jamie Dahman, Dr. Karen Fosheim, Dr. Erik Richards, and the Delta State University High Brass Ensemble.
Dr. Bailey completed her Doctor of Musical Arts degree at the University of North Texas in May 2019 and is in her first semester as a faculty member at Delta State.