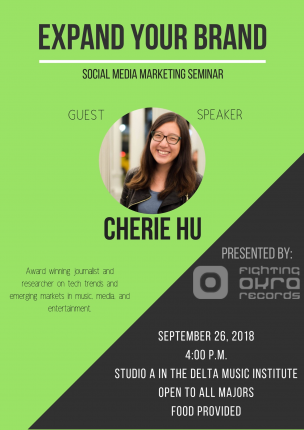 CLEVELAND, MS – Fighting Okra Records (FOR), the student run record label of Delta State University, has partnered with music business journalist and researcher Cherie Hu to provide a social media and music marketing seminar. The presentation will be held on September 26, 2018, at 4:00 p.m. in Studio A of the Delta Music Institute (DMI) and is free and open to the public.
Cherie Hu is an award-winning journalist and researcher on technology trends and emerging markets in music, media, and entertainment. Hu Remarks, "This seminar will give DIY artists and their teams a deep-dive into the unique strengths and mechanics of different online platforms, and how to leverage these mechanics effectively to grow an artist's reach and community meaningfully, without sacrificing creative vision."
The mission of Fighting Okra Records is to provide a practical, real-world entertainment industry experience to DMI students. Its goal is to provide a variety of independent artists with professional quality music and entertainment industry services in an effort to expose their name in recordings to the broadest possible audience. FOR is holding the seminar to help local businesses and students stay informed and present themselves well in a changing marketing climate.
Studio A is located in the Whitfield building on the DSU campus at the corner of Leflore Circle and Yazoo Street in Cleveland, MS. The seminar is free and open to the public, no reservations required. Parking is available on Leflore Circle and Yazoo Street. For more information, contact FOR's Liz Sprague at 207-475-4933.
The DMI is an independent center of study under the College of Arts & Sciences at Delta State University, offering a B.S. degree in Entertainment Industry Studies degree. The focus of the DMI is to provide students with a broad and thorough education in the technological, creative, and business areas of the music and entertainment industry. For information, visit http://dmi.deltastate.edu.