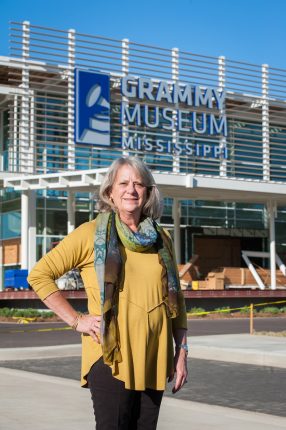 The Delta State University flag is lowered to half-staff today in memory of Dr. Lucy Richardson Janoush, who passed away Sunday, Sept. 17, at her home.
She graduated magna cum laude in 1978 from Delta State University with a Bachelor of Arts degree in English and from Mississippi State University in 1979 with a master's degree in Public Policy and Administration. She was presented with an honorary doctorate degree from Delta State University in Arts and Letters in May 2017.
Lucy was the driving force behind the building of the GRAMMY Museum® Mississippi in Cleveland and has been the president of the board of directors since 2011.
Lucy received many honors for her volunteerism including the Governor's Arts Award Art Patron by the Mississippi Arts Commission in 2017, 2015 Delta State University Outstanding Alumnae of the Year, female Volunteer of the Year in 2015 by the Community Foundation of Northwest Mississippi, and the 2010 Junior Auxiliary Charity Ball queen.
Visitation will be from 11 a.m. to 1 p.m. Wednesday, Sept. 20, at First Presbyterian Church in Cleveland followed by a Celebration of Life at 1 p.m. A private burial will be under the direction of Ray Funeral Home in Cleveland.
In lieu of flowers, donations may be made to the GRAMMY Museum® Mississippi, Boy Scouts of America, First Presbyterian Church of Cleveland or the Delta Music Institute at Delta State University.