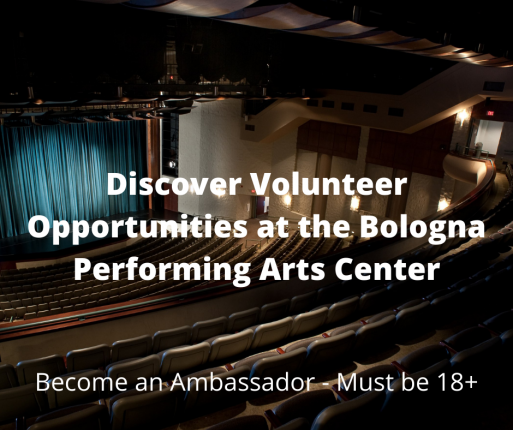 At the Bologna Performing Arts Center (BPAC), each season, many dedicated volunteers work a variety of performances. These volunteers are known as "Ambassadors." They serve as greeters, ticket takers, door captains, and ushers. From community members to DSU students, the Bologna Ambassadors make the show go on!
The annual mandatory training for returning and new volunteers will be held the first week in April. Positions are always open to join the Ambassador Program for upcoming performances.
The Bologna Performing Arts Center on the campus of Delta State University in Cleveland, Miss., is a multidisciplinary facility that presents an annual performing arts season featuring top touring productions and concerts. Volunteerism at the BPAC is a great opportunity to get involved with the community, meet new people, and work in a fun, entertaining environment.
On March 22, the Bologna Performing Arts Center at Delta State University announced its return to live performances for the upcoming Spring and Summer. The Series will mark the BPAC's 27th year of presenting live arts and entertainment.
"We look forward to resuming live events and welcoming back audience members," said Laura Howell, BPAC executive director, "and BPAC Ambassadors are an essential part of helping to maintain the safety of all our patrons."
Patrons can expect temperature checks and are required to wear masks while inside the BPAC. Tickets will be sold in groups, so that patrons are sitting directly next to people in their cluster. Finally, tickets will go on sale for each performance about 4-6 weeks before each event, which allows the BPAC Ticket Office to adjust seating charts and audience capacity to the most current health and safety operating guidelines.
Ambassadors help ensure that every patron attending has a wonderful, enriching experience from beginning to end. The BPAC greatly appreciates their dedication and could not service the community without them.
If you are interested in joining the team of Ambassadors, please contact Amber Kincaid at 662-846-4625 or email akincaid@deltastate.edu.