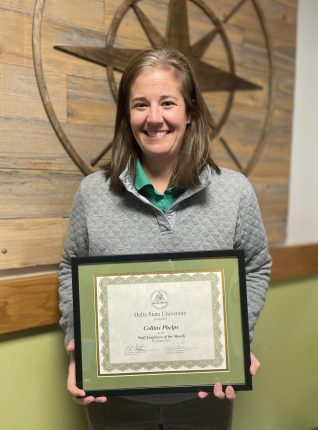 Name: Collins Phelps
Job Title, department: Coordinator, Student Success Center
Employee of the month for what month/year: December 2022
DSU degrees: Bachelor of Business Administration- Delta State University and Master of Business Administration- Delta State University
Previous DSU awards: N/A
What does this award mean to you? I am so humbled to receive this award. The Student Success Center team is such an awesome team to work with, and I am truly thankful for their support they give to me each and every day.
What do you like best about your job? I love working with our Delta State students. I am so blessed to have the opportunity to help and support them throughout their college careers. I enjoy building relationships with our students, and when they walk across the stage at graduation, I am so proud of them and what they have accomplished.
What do you like best about Delta State? The best thing about Delta State is that we are a family! Everyone knows everyone, and we support each other. A family working environment is so hard to find, and we have it here at Delta State!