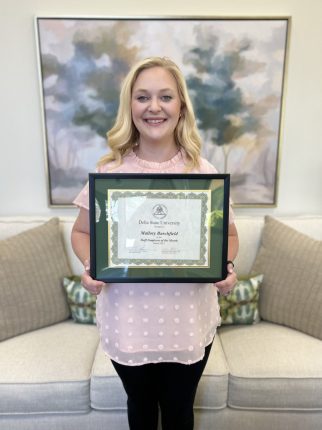 Name: Mallory Burchfield
Job Title, department: Campaign Coordinator, DSU Foundation
DSU Degrees: Masters in Business Administration, 2021
What does this award mean to you? This award means a lot to me. I come to work every day striving to do my best and help the University in any way that I can. I love this University and am lucky that others see that I love what I do.
What do you like best about your job? I like that I am able to see the behind the scenes of how fundraising is done. Most people don't realize what the Foundation does and I like that we may not be impacting a students' life where they can see it, but we are working to make the University better so that our students can continue to succeed.
What do you like best about Delta State? I like the sense of community. I can walk around campus and know that I will always see a friendly face.
What do you like best about living in the Mississippi Delta? I love the history of the Mississippi Delta and that I am constantly learning about it. Our small town of Cleveland is so special and I love that it has so many ways to get involved! I am so glad that I get to raise my son here.
Something most people don't know about you? Most people don't know that I was on the Mississippi State Pom Squad and am the coach of the Bayou Academy Pom Squad. I have been dancing my whole life and love all forms of it. I hope to see DSU have a Delta Belles comeback!