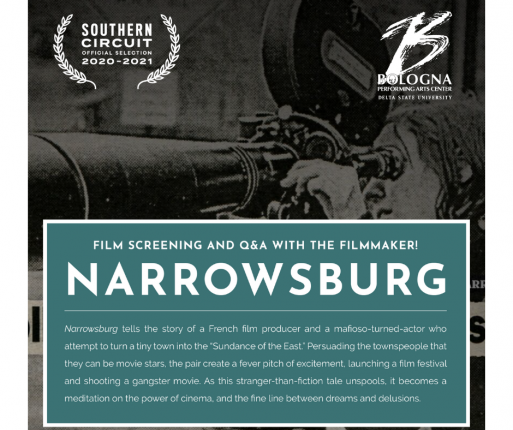 The Bologna Performing Arts Center (BPAC) is proud to present Narrowsburg, as a free virtual screening that will be available for a four-day viewing period: April 11-14. Once the film is unlocked, viewers will have 24 hours to finish watching their film. 
"We are pleased to offer extended viewing periods for the Southern Circuit documentaries this spring. The films explore a variety of topics, and we think our community will find them informing" said Laura Howell, executive director of the BPAC. Please visit www.bolognapac.com for more details and to register for free.
The last free screening that is part of the Southern Circuit Tour of Independent Filmmakers will be Narrowsburg April 11 – 14, 2021. After a successful first year, festival co-founders Jocelyn Plante and Richard Castellano announced that they would produce a locally made film using residents in supporting roles and, eventually, as a source of funding. Excited locals and investors attended the second festival expecting to see a rough cut of the feature-length film, Four Deadly Reasons, but what they got was 15 minutes of poorly-made footage. Even worse, all of the local actors apparently ended up on the cutting room floor. By the time the screening was over, Plante and Castellano had already skipped town. Ten years in the making, Narrowsburgcatches up with the couple behind the debacle and residents of the town who have had to come to terms with falling victim to a scam through the allure and romance of filmmaking. The screening will be followed by a pre-recorded conversation with Director, Producer Martha Shane.
This film is part of the Southern Circuit Tour of Independent Filmmakers. Southern Circuit screenings are funded in part by a grant from South Arts, a regional arts organization, in partnership with the National Endowment for the Arts.
Registration is free to all Southern Circuit films, and all film screenings are followed by a prerecorded conversation with the filmmakers. Visit www.bolognapac.com for additional information about these and other BPAC events or contact the Ticket Office at 662-846-4626. For more information about Southern Circuit and South Arts please visit www.southarts.org.