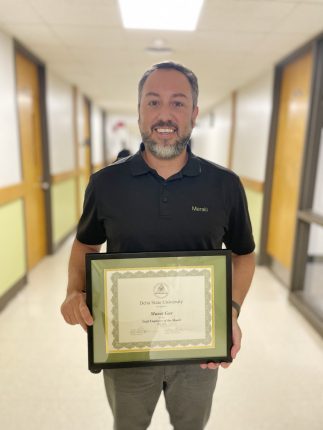 Name: Murat Gur
Job Title, department: Technical Director, Office of Information Technology
Employee of the month for what month/year: May 2022
DSU degrees: Bachelor of Business Administration-CIS
Previous DSU awards: 
CIS Faculty Award – The Outstanding Senior
Green & White Awards 2018-2019 – Jody Correro Appreciation Award
What does this award mean to you? 
This award is meaningful because it came from my co-workers and reminds me that Delta State is a family that cares about each other. I enjoy being part of a team who works together.
What do you like best about your job? 
I like challenging my knowledge about technology and making lasting impressions. It's fun to use my technical and managerial skills to accomplish complex technological tasks.
What do you like best about Delta State? 
What I like best about Delta State is the community of co-workers. It's a place where you can also spend leisure time such as attending ball games, movies, and public programs. It was wonderful that both of my kids had a chance to go to Delta State University's Child Development Center which was very close to my office building. I will always remember watching them play at the DSU playgrounds.