8th Annual International Conference on the Blues
Make plans to attend the 8th annual International Conference on the Blues, a celebration of the art form through scholarly activity, discourse, and music, on Friday, Oct. 1, 2021!
This annual blues conference is hosted by Delta State University, located in Cleveland, Miss., the heart of the Mississippi Delta and the birthplace of American music.
This year's virtual conference will be available through the award-winning event and conference platform, Whova, for a seamless online experience and on-demand access.  Featured performances include Grammy-nominated Jontavious Willis, the Coahoma Community College Concert Choir, a keynote address from Rev. Dr. Dwight Andrews, and special presentations by keynote producer Annette Hollowell!
The morning will begin with performances connecting the Black gospel tradition to the blues, and the afternoon features academic presentations, all of which will be streamed and recorded for on-demand access. Topics include the blues; music of the African diaspora; Black musical traditions and influences on American music and culture; the influence of blues, gospel, spirituals, and soul music; Black music as protest and social commentary; and Black artists and the music industry.
Don't miss out!
Click HERE to register!
Pre-Conference Event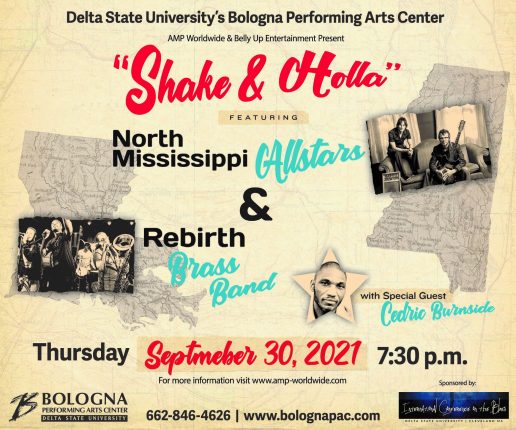 Our 2021 conference will kick-off with a pre-conference concert featuring SHAKE & HOLLA: Grammy-nominated and Blues Music Award-winning North Mississippi Allstars, joined by the legendary Rebirth Brass Band and Cedric Burnside.
The concert begins at 7:30 PM Thursday, Sept. 30, 2021, with a crowd-pleasing performance at the Bologna Performing Arts Center, located on Delta State's campus. Purchase tickets now by calling the box office at (662) 846-4626 or by visiting the BPAC's website at www.bolognapac.com.
Click HERE to buy tickets now!
To learn more about the International Conference on the Blues, view past conferences or register for this year's event, visit www.deltastate.edu/blues.