CLEVELAND, Miss.— A message of unity resonated during Delta State University's Fall 2022 General Convocation.
New Delta State students joined faculty, staff and community members for the annual event that marks the beginning of the new academic year.
The convocation opened with a university welcome from Provost and Vice President for Academic Affairs Dr. Andy Novobilski, followed by a student welcome from Vice President for Student Affairs Dr. Eddie Lovin and a community welcome Cleveland-Bolivar County Chamber of Commerce President Jeffrey Farris.
New faculty and staff members were then presented by Faculty Senate President Dr. Josh Armstrong and former Administrative Staff Council Chair Chief Jeffrey Johns respectively, while Student Government Association (SGA) President Lucia Chacon Habis introduced the 2022-2023 SGA officers.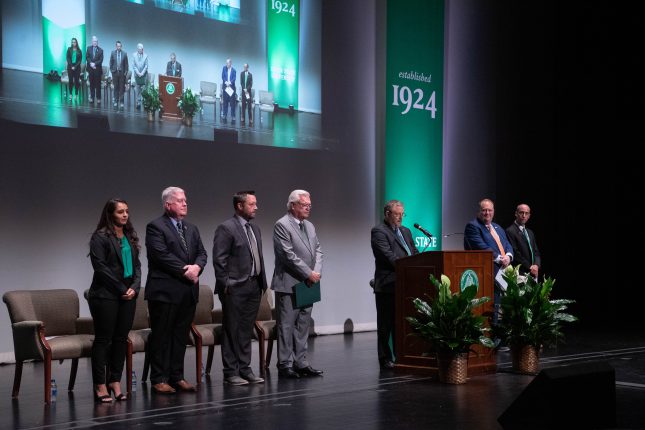 The event was highlighted by a convocation address, titled "Join In and Stand Out: A Call to Community," from Delta State's Interim President Dr. E.E. Caston.
"It's my pleasure to welcome all of you—students, faculty, staff and members of the community," said Caston.
While the University has evolved through the years, Caston said its primary mission has remained untouched—teaching and learning.
"The central focus of all who are employed here in professional positions is meeting the needs of students—academic needs, personal needs and social needs," he said. "Students, our faculty and staff are here for you."
Noting how the campus has transformed since his arrival as freshmen in 1962, Caston said the reception that students are now receiving has the same warmth and professionalism that he experienced with DSU personnel.
"Delta State has operated for nearly a century as a special place that has focused on the care and welfare of others. We have prided ourselves through the years on our close relationship with one another in our daily lives, also in times of need, times of worship, times of celebration and time of sadness," he said.
"We're living in significantly changing times with challenges that are unprecedented, and it is up to all of us to stand for the foundation of this University and this community," he added.
Acknowledging the newest members of the Delta State family in the audience, Caston encouraged students to get active.
"You're here for a university experience. This is your university, so capitalize on every opportunity for a new experience," he said.
As a small, student-centered university, Caston said there's ample opportunities for students get involved both on campus and in the community.
"The University has a long successful history of student success with graduates worldwide making contributions to benefit others in a range of careers… So, you're finding yourselves in a good place," he said.
Caston, who was a member of the Statesmen Football team, fittingly closed out the session with an energetic rendition of the Delta State Fight Song, led by Head Football Coach Todd Cooley and the 2022-2023 Statesmen Football Team.
"Let's be the best that we can be, and that will put us in a good place," said Caston. "My commitment to you as interim president is to the promote the unity and good for all members of Delta State community and our local community, and I ask you to do the same."