CLEVELAND, Miss.— The Delta State University Alumni Association recently honored its past presidents during its inaugural Past Presidents Dinner.
The special occasion was hosted April 9 in the Atrium of Kent Wyatt Hall. After more than a year of COVID-19 restrictions, the event was opportunity for the current and past leaders of the organization to reconnect, fellowship and discuss the past and future of the DSU Alumni Association.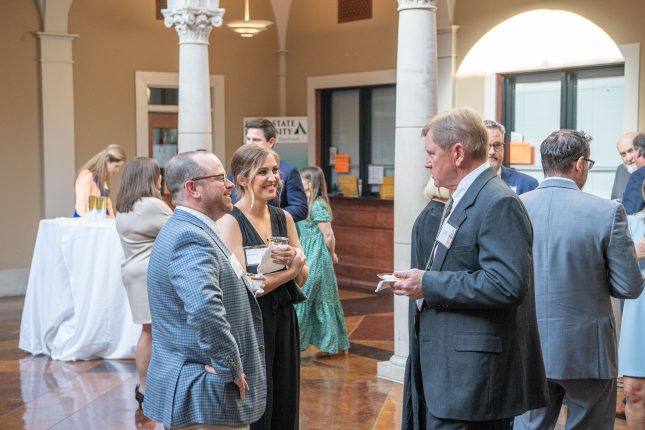 "I'm glad so many of the prior presidents were able to come back in for the celebration," said John Fletcher, current president of the DSU Alumni Association. "It seemed like everyone had a great time, and it was a nice opportunity to introduce George as the new president beginning with Homecoming in November."
In addition, Fletcher said the event was a great opportunity to learn from those who have served previously.
"It's always great to hear the stories of those who came before you and to pick their brains and experience for ideas we can use going forward," he said. "I hope this becomes a new tradition and an ongoing opportunity for these leaders to interact directly with the administration and to stay engaged and involved with the University."
Past Presidents of the DSU Alumni Association include:
Ms. Dorothy McLain Causey
Mr. Robert Cagnell Bullock
Ms. Elizabeth Zeigel Winter
Eugenia Bachman Rutland
Dr. Williams D. McCain
Mr. Hal Carnes
Ms. Gladys C. Castle
Mr. Jack Barwick
Ms. Maxine Boggan Holcombe
Mr. Jack Barwick
Mr. James Flack
Mr. William Ferguson
Dr. William D. McCain
Mr. Edward L. Lowe
Mr. Chandler Worley
Mr. H.L. Nowell
Mr. Paul Anderson
Mr. Hyram Gerrard
Mr. B.F. Smith
Mr. Haltom Brown
Mr. Lamar Beevers
Mr. Percy Funchess
Mr. Ben Stallings
Mr. Billy Stephenson
Mr. Frank John Loyacono
Ms. Leila Lyle Underhill
Ms. Ruth Walters Bobo
Dr. Kent Wyatt
Mr. Martin T. King
Mr. Hugh Ellis Walker
Mr. Ed Kossman Jr.
Mr. Wayne Anthony
Mr. Alben N. Hopkins
Mr. Robert M. Dearing
Mr. Ken Lauderdale
Mr. Jesse A. Barr
Mr. Neil Thomas
Clarence Wilkinson
Bobby Barrett
Alyce West Richardson
Dr. Arthur Richter Jr.
Mr. Peter Jernberg
Dr. Clyde Muse
Mr. Bobby Moore
Mr. Hunter Cade
Mr. Claude Porter
Mr. William N. LaForge
Dr. Anne Cross
Mr. James Young
Mr. Allen Burrell
Mr. Jim Eidt
Mr. Bradley Smith
Mr. Harmon Boggs
Mr. Sidney Runnels
Mr. Wayne Smith
Dr. William Alford
Mr. Bobby Fahey
Mr. John M. Alexander
Mr. Glover "Russ" Russell
Mr. Donald Green
Mr. Harvey Tackett
Mr. Mickey Robinson
Dr. Jimmy Avery
Mr. Charles W. Holmes
Mr. Chris Kelley
Mr. Arthur S. Johnston, III
Mr. Bill Greenleaf
Ms. Daye Dearing
Mr. John Cox
Mr. George Bassi
Mr. Richard Myers III
Mr. Rob Armour
Mrs. Sayward Fortner
Mr. Patrick Davis