CLEVELAND, Miss.—As one of Delta State University's oldest graduating students, the late Jutta Karnstedt Ferretti of Shelby, Miss. attributed the education she gained at Delta State with providing her a new lease on life. Now, she's ensuring others have that same experience through a generous estate gift to the Delta State Foundation.
On Dec. 11, 2010, at the age of 86, Ferretti graduated magna cum laude—gaining distinction as one of the oldest graduates in the history of Delta State. Ferretti passed away Dec. 25, 2021, at Indywood Estate in Cleveland. She was 97.
According to her nephew, John Letchworth, and his wife, Jane, of Shelby, who served as her caregivers, Ferretti wanted to ensure others received the opportunity to earn an education at Delta State.
In fact, even before her recent estate gift, Ferretti had six active scholarships benefitting Delta State students in Nursing, Interdisciplinary Studies, Pre-Med, Liberal Studies and the Delta Music Institute, totaling more than $162,000.
One of her recent scholarship recipients, David Jones, who received the 2021-22 Ferretti Fellowship in the Master of Arts in Liberal Studies, said that while he appreciates the financial support, Ferretti's life serves as an even greater inspiration.
"I am truly honored to be chosen for the Ferretti Fellowship," said Jones, "Mrs. Jutta's accomplishments at such a seasoned age are very impressive. It is my hope that I may impact the lives of my current and future students and instill in them the hunger for learning exhibited by Mrs. Jutta Ferretti."
Dr. Charles Westmoreland, associate professor of history and coordinator of the MALS programs, echoed those sentiments.
"We are thankful for the generosity of the Ferretti family, especially Mrs. Jutta Ferretti," said Westmoreland. "Her legacy to Delta State is a powerful and enduring one. We should all emulate her commitment to lifelong learning and kindness to others. Her passing saddens us, but we promise to continue her work."
Born June 11, 1924, in Magdeburg, Germany to William Theodore and Waldtraut Wahlstab Karnstedt, Ferretti emigrated to St. Louis at the age of five with her parents and younger sister, Gisela.
A graduate of Ferguson Senior High School, she attended Rubicom Business College. On a blind date, she met a young soldier, John S. Ferretti of Shelby, who was stationed at Jefferson Barracks Military Post. They married Nov. 23, 1943, before his deployment to the Pacific Theater.
"She loved school but because some of the men had been drafted, the business school asked their students if they'd like to go to work," said Jane. "So, she left school and took a job, and she never finished."
At the completion of John's military service, the couple moved to Shelby and founded John S. Ferretti Building Materials in 1959 where they worked side by side until retirement. Upon the death of her husband in 2005, Ferretti enrolled at Delta State, where she would earn a Bachelor of Science in Interdisciplinary Studies.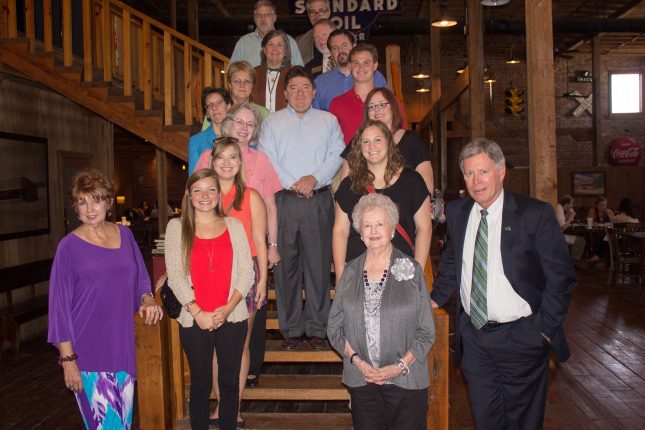 "She told us that her husband always made her promise that she would go back and get her degree, so she made up her mind that she wanted to attend Delta State," said Jane. "She had me come down and meet with Beverly Moon and others…They got her enrolled and everybody at Delta State did everything that they could to ease her transition into college."
Jane said it was amazing to watch Ferretti adapt to technology.
"She'd only used a computer to e-mail, but she took those tests," she chuckled. "That shows how much she'd gained from self-knowledge through the years."
John and Jane remember Ferretti was a traveler who read extensively. In fact, Delta State honored Ferretti by dedicating the Jutta Karnstedt Ferretti Special Collections Room in the Roberts-LaForge Library in 2011.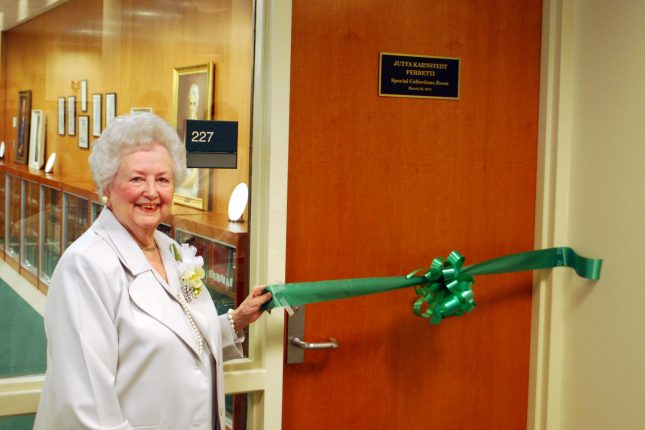 "She just was always striving to better herself and learn more. She was a very interesting person," said Jane.
Ferretti's favorite part of college was meeting new people, especially international students.
"Delta State was her happy place. She would go to the cafeteria, and she would see a group of young people enjoying themselves but speaking another language…they were international students and members of the swim team," recalled Jane. "They took her in…They loved her, and so she met a whole new world of young people who enlivened her life. That was joy to her."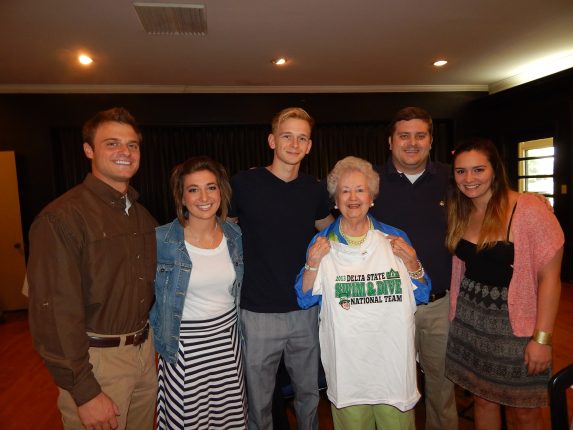 Even during her last days, Ferretti never stopped encouraging others to go back to school just as she had done.
"Toward the end of her life at Indywood, she had to have around-the-clock care, and one of the sitters was a pretty savvy older lady," shared Jane. "She told me that Jutta encouraged her all the time to go back to school… 'You're not too old…You can do it' she would say. She was always trying to get people to better themselves through education."
Ferretti's estate gift will serve as encouragement for others for years to come.
"She loved Delta State; she loved the opportunity for people to learn, and she wanted to do her part to ensure they had the means to do that."