CLEVELAND, Miss.— Delta State University's Don Allan Mitchell, an associate professor of English in the Division of Languages & Literature, has been recognized as Delta State's 2022 Mississippi Humanities Council Teacher of the Year recipient.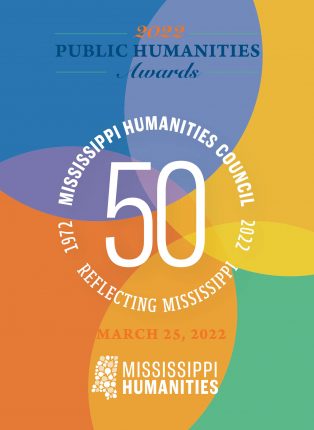 This significant teaching award pays tribute to outstanding faculty in traditional humanities fields at each of the state's institutions of higher learning. The award is presented by the Mississippi Humanities Council, which is celebrating its 50th anniversary this year.
Mitchell was recognized during the Public Humanities Awards Gala, hosted March 25 in Jackson.
On April 27, Mitchell will deliver a public humanities lecture entitled "Searching for August Wilson's Blues," which will highlight Mitchell's research on the music of August Wilson's plays.
"The late August Wilson twice won the Pulitzer Prize for Drama and is considered one of the greatest African American dramatists of all time," said Mitchell.
He said the lecture will be timely as Wednesday, April 27, is also August Wilson's birth date.
"Searching for August Wilson's Blues" will be held in Kethley Hall Room 231, from 6 p.m. to 7:30 p.m. and will include a brief question and answer session. The event is free and open to the public, and there will be a short reception following.
August Wilson's work has drawn iconic onstage performances from James Earl Jones, Denzel Washington, Viola Davis, Angela Bassett, Phylicia Rashad, Laurence Fishburne, L. Scott Caldwell and Samuel L. Jackson. More recently, the 2020 film version of Wilson's play "Ma Rainey's Black Bottom" won two Oscars, and featured the late Chadwick Boseman in his final film role. A Broadway revival of August Wilson's "The Piano Lesson" will debut in September 2022, and star Samuel L. Jackson.
"The revival's director, Latonya Richardson Jackson, will become the first woman ever to direct an August Wilson play on Broadway, so interest in Wilson's ground-breaking drama remains high," said Mitchell.
In addition to an overview of how and why Wilson incorporated blues and Black music into his drama, Mitchell will also discuss his interviews with Rev. Dr. Dwight Andrews, who served as musical director for both August Wilson and legendary director Lloyd Richards at Yale Repertory Theatre.
In particular, Mitchell will discuss how the music developed for the earliest productions of Wilson's plays at Yale Rep, on the regional theater circuit, and in their earliest Broadway incarnations.
"There are also a surprising number of Mississippi connections to Wilson's dramas, especially to Moorhead, Mississippi," Mitchell said.
The lecture is made possible by a grant from the Mississippi Humanities Council, through support from the National Endowment for the Humanities. Any views, findings, conclusions, or recommendations expressed in this program do not necessarily represent those of the NEH or the MHC.
To learn more about the Mississippi Humanities Council, visit www.mshumanities.org.
For more questions or more information, contact Laura Kate Fortner, senior secretary, at (662) 846-4065.