CLEVELAND, Miss.— "Our phenomenal students have done it again," declared Dr. Tomeka Harbin, faculty advisor for Delta State University's Phi Beta Lambda (PBL) following an impressive win during the 2022 Mississippi PBL State Leadership Conference.
Ten Delta State students participated in the annual competition, hosted Feb. 23-25 at the Mississippi University for Women. DSU finished with six 1st place finishes; four 2nd place finishes; two 3rd place finishes; and one 4th place finish.
All 10 DSU students will represent the MS PBL in Chicago, Ill., during the Phi Beta Lambda National Conference in June—the university's largest group to date.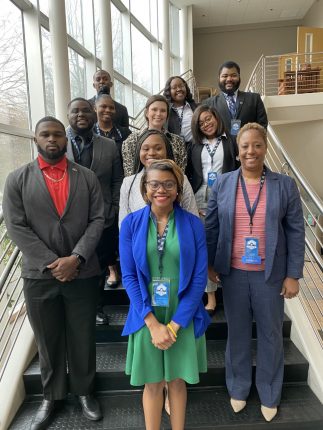 Delta State students who placed during the competition include:
Synethia Mathews, Computer Information Systems & Marketing dual major: first place Community Service Project; and first place, Business Ethics
Jasmine Evans, Master of Education Counseling major: first place, Business Ethics; and first place, Impromptu Speaking
Amyia Triggs, Child Development major: first place Retail Management; and third place Organizational Behavior and Leadership
Davontre Henderson, Sports Management major & Marketing minor: first place, Community Service Project; and third place Sales Presentation
Erica Keller, Marketing/Management major: first place Social Media Marketing; and third place Sales Presentation
Arianna Chestnut, Human Resource Management major: first place Job Interview
Tamarcus Hemphill, Master Professional Accountancy major: second place Insurance Concepts; second place Job Interview
Chris Clanton, Finance major: second place, Personal Finance; and third place, Public Speaking
Javia Brown, Accounting major: fourth place, Accounting Principles
Malik Fulton, Accounting major: second place, Retail Management; and third place, Accounting Principles
In addition, Evans and Mathews were inducted into the Mississippi Phi Beta Lambda Hall of Fame for winning a national title last year during the 2021 National Leadership Conference.
"After having to compete virtually last year due to COVID-19, I'm excited that we were able to compete in person this year. None of our members left empty-handed, and I am so proud of them!  I look forward to competing with them again in Chicago this summer, "said Mathews, president of Delta State's PBL Chapter.
Mathews said the group also extends special thanks to Harbin and Dean Billy Moore of the College of Business and Aviation, as well as other Delta State faculty and staff who helped them prepare for their events.
"To say that I am extremely proud and excited for our DSU-PBL students is an understatement," said Harbin. "This year, we have the largest delegation of students from DSU attending a Phi Beta Lambda National Leadership Conference. This is a testament to their hard work and commitment to representing themselves, DSU, and the State of Mississippi with excellence. I'm thrilled to be a part of such a self-motivated group of students."
Future Business Leaders of America-Phi Beta Lambda, Inc. (FBLA-PBL) is the oldest and largest national organization for students preparing for careers. FBLA-PBL prepares students for "real world" professional experiences. Members gain the competitive edge for college and career successes. More than a quarter of a million students participate in this dynamic leadership organization.
To learn more about the organization, visit www.fbla-pbl.org.