CLEVELAND, Miss.—The current facility and adjacent parking lot for Delta State University's Robert E. Smith School of Nursing (RESSON) will soon be the location of a newly expanded and renovated building that will better position Delta State to help fill the critical need for highly qualified nurses in the region.
The campus community, supporters and friends of the University celebrated the $11,875,000 project Monday during a groundbreaking ceremony, hosted on-site at the RESSON building. Following a brief program, the ceremonial sod-turning was performed by university, city, county and other project officials. The event concluded with a reception.
Delta State President William N. LaForge said the ceremony was about much more than just a building.
"This program is such a signature program for Delta State; it's one of the things in which we are best and well known throughout the state and the region…We're very proud of this program for its successes," said LaForge.
"We think so highly of this program that we decided to expand it—not only to teach and to train our students here, but to serve as an economic development factor in the Delta and throughout our state. We're all aware of the nursing shortage, and this new project will allow us to serve 60 to 80 more students than we have right now."
Dr. Andrew Novobilski, provost and vice president for Academic Affairs added, "Not only are we talking about adding to the ability to produce registered nurses with Bachelor of Science in Nursing degrees—whether they came to us as RNs or at the start, but also our Doctor of Nursing Practice and our nurse practitioners who really are the backbone of the administrative services and the healthcare provided at hospitals and clinics."
According to Delta State's Vice President of Finance and Administration and Chief Financial Officer Jamie Rutledge, the project is the result of several years of hard work by numerous individuals.
"What an exciting day today is," said Rutledge. "We've spent a long time working on this project. We appreciate everyone who played a part in this project and getting us to where we are today."
According to Rutledge, the vision for the project began in 2017 with the project planning officially kicking off in 2019.
The addition will be approximately 13,000 square feet, featuring one large classroom with 70 fixed seats, a new simulation lab with five simulation rooms and three control rooms and a new nursing skills lab with 10 beds. The addition will also include a new office suite with a large conference room, a new open lounge and courtyard and a parking lot.
The renovation of the existing Robert E. Smith School of Nursing building is approximately 8,000 square feet of renovated space within the 21,000 square feet building. The expansion of classroom 101 will provide an additional 1000 square feet allowing 70 seats.
The addition will also include electrical, technological and HVAC upgrades.
The architect for the project is Eley Guild Hardy Architects, and the contractor is Richard Womack Construction, LLC.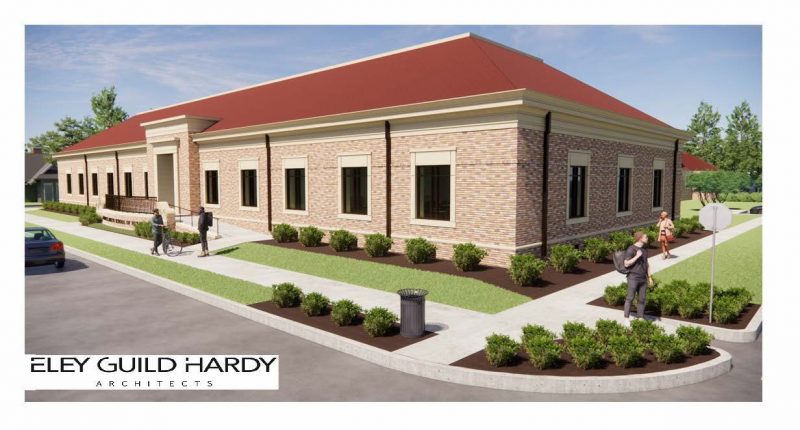 "Our current students are the future and will be the health care providers and leaders of the Mississippi Delta and our great state of Mississippi. It's taken us several years to get to this moment, but the School of Nursing staff, faculty and students are excited and eager to finally visualize all of the thoughts and ideas that have been proposed for the project," said Dr. Vicki Bingham, dean of the Robert E. Smith School of Nursing.
Bingham said that Robert E. Smith, the building's namesake, would be proud to see that the nursing building is being expanded to accommodate additional students.
"He understood the importance of having a robust and confident healthcare workforce," she said. "This renovation and expansion will not only provide the needed physical space to accommodate these additional students, but it will allow us to improve our teaching and learning experiences through the areas of simulation, skills practice and teamwork—which are all vital."
Funding for the RESSON project was made possible by MS State Legislative Senate Bill 3065, Laws of 2019; House Bill 1730, Laws of 2020; Senate Bill 2971, Laws of 2021; and Delta State funds.