CLEVELAND, Miss.—The third floor of Delta State University's H.L. Nowell Student Union has seen an uptick in traffic in recent days thanks to the addition of a new student game room.
Students, faculty and staff gathered at the newly outfitted social space Tuesday, Feb. 15, for the grand opening.
The game room features an air hockey table, ping pong, foosball, two billiard tables, an arcade machine with more than 400 games, several board and card games, as well as entertainment systems that will allow students to play music and watch tv.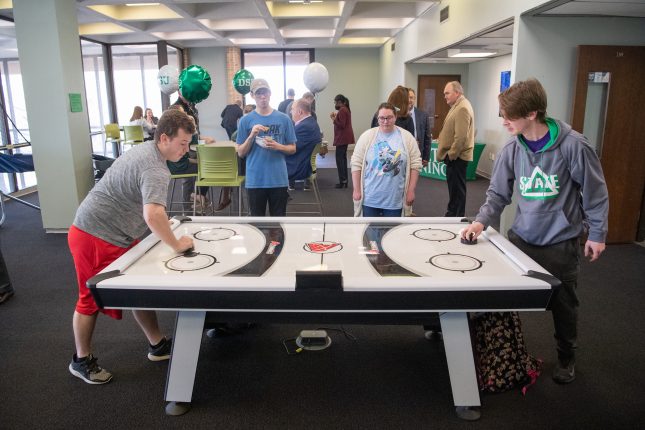 According to Delta State Student Government Association President William Young of Flora, Miss., the idea for the area was sparked after hearing students' desire for a place to gather and socialize.
"This will allow students today, tomorrow, and generations to come to congregate and enjoy their time as a student at our great university," said Young during the ribbon cutting. "I want to dedicate the student game room to our students. For it was created by the students, for the students."
Delta State Vice President for Student Affairs Dr. Eddie Lovin commended the SGA for their efforts.
"With the efforts of SGA President Young and his team, they have taken a dream to reality in just under one year," said Lovin. "The Game Room will be a long-lasting legacy that will benefit students at Delta State for decades to come."
The game room is open to Delta State students from 10 a.m. to 10 p.m., Monday through Friday.
More photos from the grand opening: