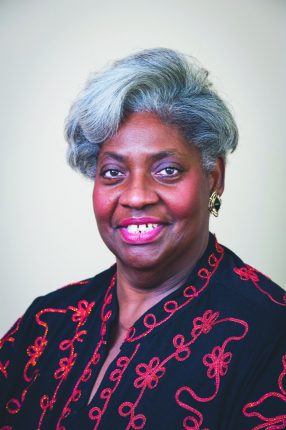 CLEVELAND, Miss.—Services honoring Delta State University alumna and basketball legend Lusia "Lucy" Mae Harris Stewart '77, '84, '14 will be held at Delta State on Saturday, Feb. 5, 2022.
Harris passed away Wednesday, Jan. 18.  She was 66.
"The Delta State family mourns the passing of Dr. Lucy Harris Stewart, the iconic basketball star who led the Lady Statesmen to three national championships," said Delta State President William N. LaForge. "We extend our sincerest condolences to her family and friends."
Services for Harris Stewart are as follows:
Visitation
5 p.m.- 8 p.m.
Friday, Feb. 4, 2022
Bethesda Five Points Center
Greenwood, MS, 38930
Funeral Service
11 a.m. Saturday, Feb. 5, 2022
Walter Sillers Coliseum
1006 Coliseum Drive
Delta State University
Cleveland, MS, 38732
Interment
Greenwood Memorial Cemetery
2913 MS-7, Greenwood, MS 38930
Repast
Greenwood Leflore County Civic Center
200 MS-7, Greenwood, MS 38930
Care entrusted to:
Century Funeral Home
801 Walthall Street
Greenwood, MS, 38930