CLEVELAND, Miss.— It was the end and the beginning for the nearly 400 graduates who were celebrated by Delta State University during its 95th Commencement Exercise.
A total of 392 graduates from the Summer and Fall of 2021 were recognized in the program during two in-person ceremonies Friday, Dec. 10. Graduate students were honored during the 10 a.m. event while undergraduate students were honored at 2 p.m.
In addition to the United States, graduates hailed from 11 countries across the globe, including Bulgaria, Great Britain, France, Germany, Haiti, Italy, Japan, Kenya, Nigeria, South Korea and Venezuela.
"Every day is a great day to be at Delta State, and I know that our degree candidates will fondly remember this moment, the day in which we honor our Summer and Fall 2021 graduating classes for their hard work and the perseverance they have demonstrated in achieving academic success that few accomplish," said Delta State President William N. LaForge.
"I want you to know how proud we are of each of you. We know this has been a very challenging time to be a university student, and we appreciate and acknowledge the flexibility and tenacity you have demonstrated during this very interesting period of American history," he added.
Dr. Joseph A. Bentley, the 2021 recipient of the S.E. Kossman Outstanding Teacher Award at Delta State, served as the commencement speaker.
A native of Little Rock, Ark., Bentley is currently in his 29th year as a professor of chemistry in the Division of Mathematics and Sciences in the College of Arts and Sciences at Delta State.
During his address, he shared words of wisdom that have impacted his life over the years in hopes that they would do the same for the new graduates. His advice included "ignore the naysayers," "protect your reputation" and "seek out mentors."
"You will find no shortage of people saying, 'You can't do that' or 'Why are you wasting your time'—ignore them and pay attention to those who say 'If you work hard, the sky is the limit,' they're the ones who are right," said Bentley.
Bentley told the Class of 2021 that while it takes 20 years to build a reputation, it can quickly be ruined in minutes
"If you think about that, you'll do things differently," he said. "Protect your reputation. Believe me, there are some bad actors out there in the world who will try to damage your reputation. You do not need to help them. Guard your reputation closely."
While reiterating the importance of having a mentor, Bentley said it's just as important to choose a good one.
"Mentors can really help you navigate your work and your life. I'm for the saying, 'experience is the greatest teacher of all.' It's better not to make mistakes in the first place, this is where a mentor is valuable," he said.
He closed by reminding graduates that tough times don't last always.
"People say all the time that life is full of ups and downs. I have to tell you, some of my worst failures in my life were followed by some of my greatest successes. So, when things are going really badly, just wait; they will get better."
Bentley's final words reiterated what many graduates already knew to be true.
"It was tough but gratifying," said Ben Harris of Greenwood, Miss. who received a Master of Business Administration (MBA) with a concentration in Computer Information Systems. "This is something that I am proud to say that I have accomplished. Currently, I'm starting a new job at the Jackson Airport as an Information Analyst, and my end goal is to become a network engineer."
"During my time at Delta State I faced a lot of hard times, but they were all worth it," shared Javeon McNairy of Prairie, Miss., who received a bachelor's degree in audio engineering. "I've learned so much here—I gained a lot of invaluable life experiences, and I learned a lot about myself."
Master of Elementary Education graduate Samantha Clark of Shelby, Miss., echoed a similar sentiment.
"There were some challenges because I work full-time and I'm a mother, but I wouldn't trade my experience at Delta State for anything in the world," she said. "I've met new people—people who I'll probably be friends with for a lifetime, so overall it was a great experience."
Elizabeth Swindle of Pearl, Miss. said the Integrated Master of Business Administration (iMBA) program at Delta State gave her the flexibility to earn a degree at her own pace as she worked full-time.
"It was such a rewarding experience to be able to complete this degree and become the first person in my family to receive a master's degree. Delta State really supported me from start to finish," she shared.
Shon Dempsey of Silt, Colo. was also able to conveniently complete his Master of Commercial Aviation online while working in airport operations for the Apsen-Pitkin County Airport in Aspen, Colo.
"My experience at Delta State was great. The professors in the program were very helpful. All of the classes were super applicable to aviation and my current career track," said Dempsey who aspires to one day manage an airport.
For Elementary Education graduates Alexis Rover of Little Rock, Ark. and Roseloran Tyler of Cleveland, Miss., Delta State has made them "classroom-ready."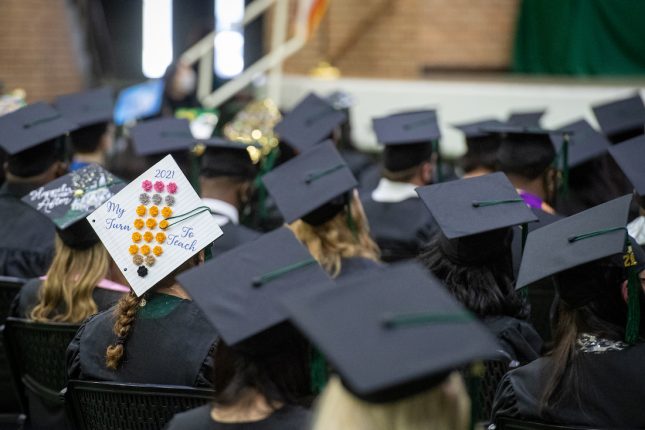 "My time here at Delta State was amazing. All of the faculty in the education department were super helpful," said Rover.
"Delta State gave us what we need in the classroom before introducing us to the real world, and I think we'll be more effective teachers because of that. Our time here seemed too short," added Tyler.
As an international student, Kevin Muela of Chihuahua, Mexico, said Delta State provided him with a world-class experience.
"I've had a really good time here at Delta State. I had the opportunity to make really great connections with friends and my teammates on the swim team," said Muela, who earned a bachelor's degree in exercise science with a minor in Spanish.
However, for many graduates like Jasmine Evans of Greenville, Miss., graduation was not a "goodbye" but rather a "see you soon" to Delta State.
"My time at Delta State has been wonderful," shared Evans who earned a bachelor's degree in psychology. "I enjoyed meeting new people and gaining knowledge as I prepare for my future career. I'm excited to further my education in Delta State's graduate program."
To view a replay of Delta State's Fall 2021 Commencement, visit https://livestream.com/deltastateuniversity.
More photos: