CLEVELAND, Miss.— The American Dental Association (ADA) recently presented Delta State University alumnus Rear Admiral Timothy L. Ricks, D.M.D., with the ADA Distinguished Service Award at ADA SmileCon™ in Las Vegas. The Distinguished Service Award is the highest honor given by the ADA Board of Trustees.
After 20 years of public health service, Ricks is considered the nation's top oral health official, serving as chief dental officer for the U.S. Public Health Service along with his full-time role as the deputy director of the Indian Health Service (IHS) Division of Oral Health.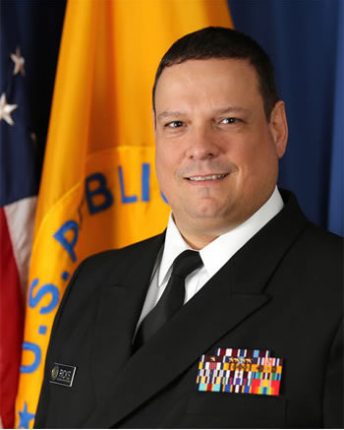 Ricks graduated from Delta State with a Bachelor of Science degree in Chemistry and Biology before earning a Master of Public Health degree from the University of Nevada and a Doctor of Medicine in Dentistry degree from the University of Mississippi Medical Center.
Ricks' career in dentistry began after serving as a military police officer in the Army National Guard. After earning his dental degree in 1995 and working in private practice as a dentist for three and a half years, Ricks transitioned to public health, which led to his nearly 20 years of work with the IHS. Years later, in 2018, Dr. Ricks assumed the role of chief dental officer for the U.S. Public Health Service.
"I enjoy the interconnectedness of health in the U.S. Public Health Service, where dentists work in partnership with physicians, nurses, engineers, dieticians, environmental health officers, scientists and others to carry out the mission of their respective agencies and the U.S. Department of Health and Human Services," said Ricks.
In his role as chief dental officer, Ricks advises the Office of the Surgeon General and the U.S. Department of Health and Human Services (HHS) on the recruitment, assignment, deployment, retention and career development of oral health professionals. He is also responsible for overseeing the development of the second-ever Surgeon General's Report on Oral Health, as well as chairs the USPHS Oral Health Coordinating Committee.
Additionally, Ricks serves in numerous national roles within the IHS, including continuing dental education coordinator, expanded function dental assistant coordinator, national IHS oral health promotion/disease prevention consultant, oral health surveillance coordinator, dental lead for the Government Performance and Results Act, and as IHS representative to the Healthy People 2020/2030 Oral Health Workgroup. He has carried out national public health initiatives, including the IHS Early Childhood Caries Collaborative, the IHS Periodontal Treatment Initiative, the ongoing IHS national oral health surveillance program, among others.
"Dr. Ricks is a dentist who exemplifies service, leadership and dedication. That's why the ADA is recognizing him with this year's Distinguished Service Award," said ADA President Daniel J. Klemmedson, D.D.S., M.D., who made the nomination. "His many accomplishments in public health, oral health promotion and continuing education have made an indelible impact on our profession. He is well-deserving of this distinction."
During the COVID-19 pandemic, Ricks' leadership was vital in supporting dentists and patients by helping to convene public-private partnership meetings to allow for exchange of information and collaborative thoughts around infection control and other pandemic-related recommendations. The group continues to meet and now includes 50 dental organizations and representatives from 11 federal agencies.
Ricks, who serves in the ADA House of Delegates, is also a board-certified diplomate of the American Board of Dental Public Health, a fellow of the International College of Dentists and the American College of Dentists, and a Santa Fe Group Scholar.
"This award has been a highlight of my career, and I'm humbled by the recognition," added Ricks. "I am fortunate to have had so many people around me to mentor me, serve with me and serve with such passion to make my career so rewarding."