CLEVELAND, Miss.—Through a wide variety of contributions, Dorothy Shawhan changed the landscape of Mississippi, Cleveland, and Delta State University. In her honor, the 10th marker featured as part of the Mississippi Writers Trail was unveiled on the campus of Delta State on Friday, July 23.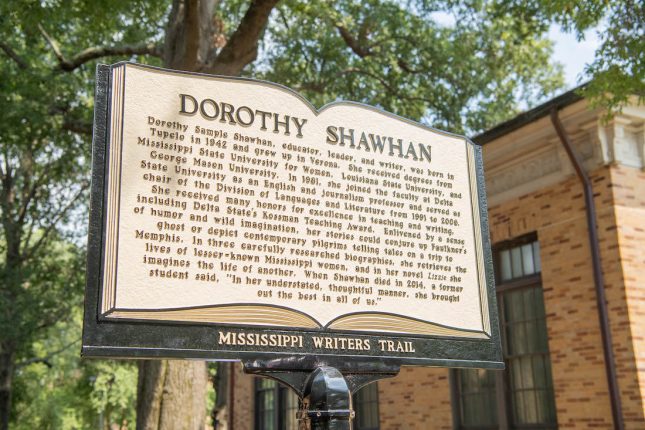 The Writers Trail marker is situated in the southwest vicinity of Kethley Hall, where Shawhan served as a long-time professor and chair of the Division of Languages and Literature at Delta State.
The marker's text was composed by Marion Blackburn, who worked with Shawhan at Delta State for more than two decades.
"It's a challenge to put a life well lived on a marker in 155 words, but it was a great honor to do so," said Blackburn.
Family, friends and former colleagues of Shawhan filled the Wright Art Gallery for a special ceremony preceding the unveiling. During the event, campus and community members remembered Shawhan for the impact she had on Delta State and the community at large.
"She was outstanding in her profession, and she carried herself with dignity and grace," said Cleveland Mayor Billy Nowell. "Whenever someone brought her name up, it would be a smile on everyone's face—that's a real testament to the type of person she was."
Representing the Department of Languages and Literature during the ceremony was Shawhan's longtime friend and colleague Professor of English Emerita Susan Allen Ford.
Ford remembered Shawhan as a prolific and generous storyteller—not just on her front porch, but also in her biographies of Mississippi's Judge Lucy Somerville Howorth and Fannye Cook; her introduction to the life and art of the self-taught Cleveland artist Carolyn Norris; her novel, "Lizzie"; and countless short stories.
She also taught generations of Delta State students all kinds of writing—including journalism and technical writing as well as the art of fiction and creative nonfiction, Ford said.
"Always a generous and supportive colleague and mentor, as chair Dorothy made a real impact on Delta State University, facilitating growth and energy and good will among members of a large and diverse division," said Ford. "She helped transform her students and the members of her Division, as John Ford often said, 'by somehow knowing and supplying the specific kind of support we needed.  She helped us all be better.'"
Shawhan began teaching at Delta State in 1981 and served as the chair of the Division of Languages and Literature from 1992 to 2006.  Described as a "caring" and "stimulating" teacher, Shawhan was honored with the Kossman Outstanding Teacher Award in 2006.
Colleagues described Shawhan as a creative teacher who broke new ground for education in the Delta. In the 1980s, with her colleagues Barnwell and Elizabeth Sarcone, she created and taught a course on women's writing. In subsequent years, she was asked by the History Department to develop a course on women's history.
In 1988, she and Barnwell co-founded the Delta State literary magazine "Tapestry" to celebrate the creative and scholarly work of DSU faculty.
Shawhan received a Humanities Teacher of the Year award from the Mississippi Humanities Council in 2004.
Shawhan's influence was felt in many areas of life in the Delta and in the State of Mississippi.  After her death, she was remembered with the Lucy Somerville Howorth Outstanding Woman of Achievement award—joining luminaries such as Emma Lytle, Fannie Lou Hamer, Keith Dockery McLean, and Mae Bertha Carter.
Describing Shawhan as a "quiet leader" during tenure as chair of the Division of Languages and Literature, former DSU Provost and Vice President for Academic Affairs John Thornell said that Shawhan had the unique ability to balance their individuality with the common good of the students and the university.
"She touched all of us with her intellect, her kindness, her compassion, her strength of character, her humor, her literary gifts, and her sense of humor," said Thornell. "She loved to laugh…dark clouds turned into sunshine when you were around Dorothy."
Delta State Provost/Vice President for Academic Affair Andy Nobovilski noted that while the marker is a great commemoration of Shawhan, perhaps even greater is the impact she left on her former students and colleagues.
"In the same way that we'll unveil a memorial for her," said Nobovilski, "professors like Michael Smith said he still uses material that Shawhan shared with him in the classroom.
"Think about it, in addition to the memorial, generations of Delta State students are going to benefit from Professor Shawhan's work, going forward now and for the long term."
The Mississippi Writers Marker and ceremony were made possible by the Mississippi Art Commission, Visit Mississippi, Visit Cleveland, and the Mississippi Delta National Heritage Area.