CLEVELAND, Miss.— From darting around the serene Delta skies, to visiting the Mighty Mississippi River and meeting an award-winning actor—the past six weeks have been filled with adventure for 14 Air Force Junior Reserve Officer Training Corps (AFJROTC) cadets as they earn their wings from Delta State University's Commercial Aviation program.
For the first time, Delta State has partnered with the United States Air Force as a partnering university for the AFJROTC Flight Academy. The 8-week aviation training program is designed to provide high school and Air Force Academy cadets from across the country the opportunity to earn a Private Pilot's Certification.
Cadet 1st Class Trevor Foutz of the Air Force Academy said he's grateful for the opportunity to earn his private pilot license as he works towards becoming an Air Force pilot.
"It's been hard work, but I've definitely had experiences I wouldn't get anywhere else," he said. "I feel like Delta State has gone above and beyond in terms of our preparation."
A resident of Colorado Springs by way of San Antonio, Foutz said the Mississippi Delta has been a welcomed change of scenery.
"Before this I had no idea what Delta State was…I'd never been to Mississippi, so I really had no idea what to expect when I got here, but it's been great! Delta State has offered an experience you couldn't get anywhere else," he said.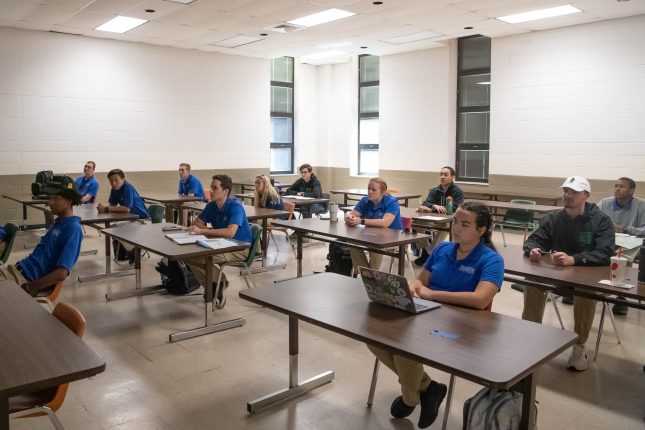 Savannah Bicars of East Tennessee received a scholarship to attend the flight academy. A current high school student, she aspires to one day become a professional pilot.
"It's been great at Delta State," she said. "The Delta is really flat which is different from the mountains back home and it turns out I'm allergic to mosquitos, but it's been a nice experience. The people are nice, and my instructors have all been very kind and helpful."
AFJROTC Cadet and aspiring Air Force pilot Tyler Wilkerson of Metro Atlanta agrees.
"I'm enjoying this experience. It's a big transition coming from Atlanta, but I've been surprised by how much I've been able to do. The Bologna Performing Art Center's Clay Walker and Martha Reeves concerts were super enjoyable," he said.
While they've been staying busy outside of class and study time, Foutz and Wilkerson both said that a highlight of the experience has been meeting award-winning actor Morgan Freeman at Ground Zero Blues Club in Clarksdale. A native of the Mississippi Delta, Freeman joined the Air Force after high school to become a fighter pilot before pursuing an acting career.
"When Morgan Freeman walked in, everyone was in disbelief—including me. It was definitely a star-struck moment," said Wilkerson.
"We got to spend an hour chatting with Morgan Freeman about his career—that was definitely a once-in-a-lifetime experience," added Foutz.
The cadets are grateful for the first-class instruction and training they've received from Delta State Commercial Aviation professors.
"The instructors have been very helpful. If you ever have a question, you can reach out to any one of them. They're getting us off the ground and back safely, so you can't complain about that," said Wilkerson.
Delta State has been very good to us. I'm enjoying the ambiance, and the dining hall and Chick-fil-a have been treating me well," he added.
Foutz has he's also enjoyed visiting the Mississippi River.
"I'd never seen it before, so this was a great experience," he said. "I've flown a plane, met Morgan Freeman and visited the Mississippi River—it's been a really good program but an even more rewarding experience."
In its fourth year, the AFJROTC Flight Academy was formed to help address the ongoing and foreseeable pilot shortage by getting young people excited about aviation while also increasing aviation diversity.
The Flight Academy, in essence, allows aspiring young aviators to get their Private Pilot's Certification at no cost during an eight-week summer course at partner universities. This incurs no military commitment while providing a college transcript and only requires that the attendees be exceptional cadets and agree to take part in an annual aviation-related survey for five years.
For more information about the AFJROTC Flight Academy, visit www.airuniversity.af.edu.
Delta State's Department of Commercial Aviation is the state university system's only undergraduate and graduate aviation programs. Students are prepared for a variety of opportunities in the aviation industry including the airlines, aircraft manufacturing, airport management, air traffic control, military aviation and logistics.
The department offers a Bachelor of Commercial Aviation (BCA) in Flight Operations and Aviation Management with a concentration in Logistics, and a Master of Commercial Aviation (MCA).
To learn more about Commercial Aviation programs at Delta State, visit  www.deltastate.edu/college-of-business/commercial-aviation/
For questions, e-mail cavinfo@deltstate.edu, or call (662) 846-4205.