CLEVELAND, Miss.—Although there has been some growth with female representation in the commercial aviation industry over the last few decades, the percentage of female pilots remains low. A new student organization at Delta State University is doing something about it.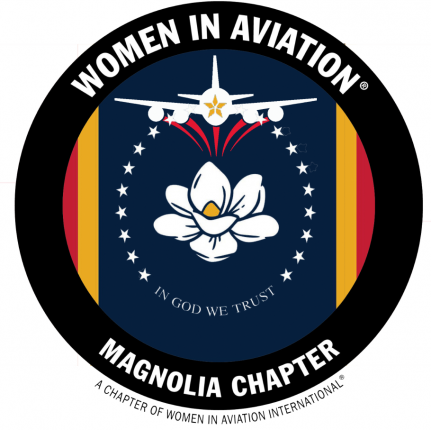 This spring, DSU officially launched the Magnolia Chapter of Women in Aviation International (WAI), a worldwide professional aviation organization that focuses on scholarships and networking for both women and men in aviation.
"It is a wonderful organization for the Delta State University students and persons in the community to get involved with aviation," said Assistant Professor of Practice of Commercial Aviation Rebecca McCracking, who serves as the organization's faculty advisor.
A DSU alumna in Flight Operations, McCracking said she started the organization for women and men to network and take advantage of the myriad of opportunities Women in Aviation International has to offer.
"As a student, it was difficult for me to connect with professionals in the aviation industry. My hope is to help our students network with DSU alumni and find new pathways for them," she said.
Christanne Carter, a DSU Flight Operations major from Houston, Miss., is a charter member of the WAI Magnolia Chapter. She was attracted by the opportunity to gain additional support as she completes her degree.
"This organization is important to me personally because growing up I always wanted to be a pilot, but I never felt like I could do it with it being a male-dominated industry," she shared. "Now that I've made up my mind to pursue the career, being a part of the Magnolia Chapter of Women in Aviation is just more reassurance that it is possible."
Carter, who currently serves as the WAI Magnolia Chapter's social media chair officer, hopes that spreading the word about opportunities available within the organization will help to inspire the next generation of girls interested in aviation.
"Maybe there are other women like me who feel the same and this organization is what they need to push them forward and reassure them that they have what it takes," she said. "With aviation being a male-dominated industry, some women may feel intimidated but that's not how it should be. We're just as capable."
While the organization is still new to the DSU community, with 20 members and counting, it is already making a mark.
During the Spring 2021 semester, the Magnolia Chapter networked with DSU alumni and learned about various aircrafts, including a King Air, Citation Jet, Air Tractor and the Air National Guard C-17.
The chapter has also implemented an in-house mentorship program, connecting current students with professional mentors, many of whom are DSU alumni.
In addition, the organization has served the community through volunteer opportunities. During the Thanksgiving, Christmas and Easter holidays, members wrote handwritten letters to residents of the Walter B. Cook Nursing Home in Ruleville, Miss.
With $14 million awarded since 1995, WIA also offers scholarships that range from aviation maintenance and air traffic control to management and flight training.
During the 32nd Annual International Women in Aviation Conference, hosted virtually March 11-12, a total of $475,805 in scholarships were awarded to WAI members at every stage of life for both academic use, lifestyle enhancement and flight training, including type ratings.
In addition to providing support to DSU students, the Magnolia Chapter has also been spreading the word about the opportunities available in the Commercial Aviation program at Delta State.
During the upcoming academic year, the Magnolia Chapter is looking forward to more fundraisers, events and circulation in the aviation network.
"Anyone is welcome—you can be a community member or a Delta State student of any major," said McCracking. "If you like airplanes, we like airplanes!"
To learn more about WAI, visit www.wai.org.
For more information about the Magnolia Chapter, e-mail rmccracking@deltastate.edu. Follow the organization online on Facebook and Instagram (@MagnoliaChapterWAI).