CLEVELAND, Miss.—77-year-old Blondell Travis has been closely watching the global COVID-19 pandemic unfold over for the past year. So, when the Renova, Miss., resident heard that there would be a vaccination opportunity just a few miles north of her home on the campus of Delta State University, she didn't waste any time making an appointment.
"COVID doesn't care what age you are—young or old it's out there, so you need to protect yourself," said Travis, who received the first dose of the Moderna vaccine on Tuesday, Feb. 23—the first official day of operation for the Bolivar County vaccination site at DSU.
Not only was Travis able to receive the vaccine locally, she also received a free ride courtesy of the Bolivar County Council on Aging, Inc.
"It's just wonderful," said Travis, as she proudly received her "I Got My COVID Vaccine" sticker. "It makes me feel good to know that they're thinking about and care for the people that's here in our community."
The Bolivar County vaccination site was made possible through a partnership with the Bolivar County Board of Supervisors, the Bolivar County Emergency Management Agency (EMA), the City of Cleveland, Delta State and the Mississippi State Department of Health (MSDH).
According to Jim Craig, senior deputy and director of health protection at the MSDH, about 150 Moderna vaccination opportunities were available Tuesday at the drive-through site, hosted at DSU's Horace McCool Stadium.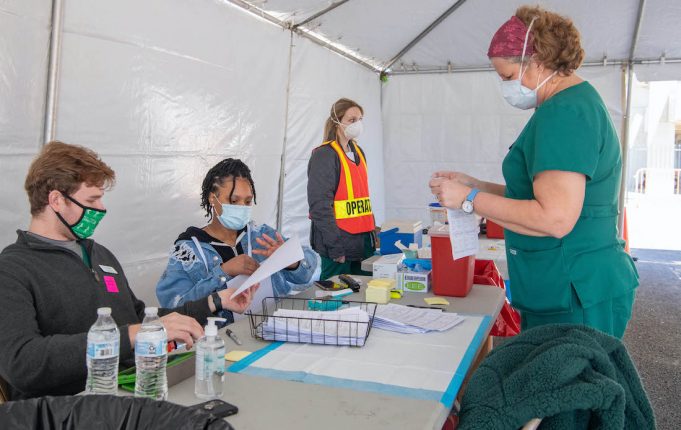 "We started pretty busy here in the morning," said Craig. "The site is really well designed and people are moving through at a good pace…from the time they say hello to the time they say goodbye has averaged about 35 minutes."
Delta State alumnus Steven Simpson ('87) of Cleveland was among those to receive a seamless experience.
"Delta State has always been able to fill a gap in the community," said Simpson, who traveled internationally as an engineering project manager prior to the pandemic.
"It was a challenge to find a vaccination opportunity, so when this one popped up that's when I was able to receive one. I understand the value of being able to safely go across borders and move through airports and public transit. This vaccination site is much needed and very well put together."
Lashona McKinney of Cleveland, a COVID-19 survivor, also sees the site as an advantage for the community.
"I was really sick—I didn't have to be hospitalized, but I experienced all of the other symptoms with the exception of breathing problems," she shared. "It's a great thing that we now have a vaccine to slow down the spread of the virus, and I'm grateful that we have a vaccination site available now in Bolivar County."
McKinney, who serves as the executive director of the Bolivar County Council on Aging, Inc., said she decided to get the vaccine in hopes of encouraging her staff members and family to do the same.
"A lot of people are leery about getting the vaccine. In fact, I initially decided that I wasn't going to get it because of all of the misinformation and things you see on social media. But then I realized that we didn't know a lot about the other vaccines we received when we were younger either," she said. "I would encourage everyone to get the vaccine so that we can get back to some sense of normalcy in our lives."
Bolivar County Emergency Management Director Michael Lamb said plans are in the works to have the vaccination site available to Bolivar County citizens for several more months.
"We'll be operating on Tuesdays and Fridays from 9 a.m. to 4 p.m., hopefully throughout the summer," said Lamb. "We encourage eligible individuals to make an appointment through the MSDH website."
According to the MSDH website, teachers and staff in K-12 schools, daycares and preschools are now eligible to schedule an appointment, as are personnel involved in law enforcement, emergency management, fire response and other first responders.
Adults 65 and over, and those ages 18-64 with certain chronic health conditions remain eligible for vaccination in addition to healthcare personnel and EMTs/paramedics.
All appointments for vaccinations at the Bolivar County site must be made through MSDH's vaccine appointment system and will be based on the eligibility guidelines established by the agency. Appointments cannot be made with city, county or university officials.
To make an appointment, visit covidvaccine.umc.edu or call 877-978-6453.