Sammy Britt, a distinguished Mississippi artist and a longtime member of Delta State University's faculty, will receive a retrospective at Delta State's Fielding Wright Art Center Oct. 3-31. An opening reception will be held on Oct. 5 from 3 to 5 PM.
Britt received the Noel Polk Lifetime Achievement Award from the Mississippi Institute of Arts and Letters in 2015 and the Mississippi Governor's Art Award in 2017. Britt has taught painting and drawing at Delta State for 35 years, retiring in 2002 as professor emeritus. Britt continues to share his unique approach to painting with DSU students, offering plein air painting classes at his studio on North Bayou.
A Delta native, Britt earned a B.F.A. in painting from the Memphis Academy of Arts and an M.F.A in painting from the University of Mississippi. A summer 1963 workshop with Henry Hensche at the Cape Cod School of Art in Provincetown, Mass., inspired Britt to hone a new way of seeing light and color that would become the theme running through his work. Hensche compared painting to music and insisted that just as a piece of music may be written in a certain key, painters should look for the specific light that distinguishes the time of day, the weather, or the season.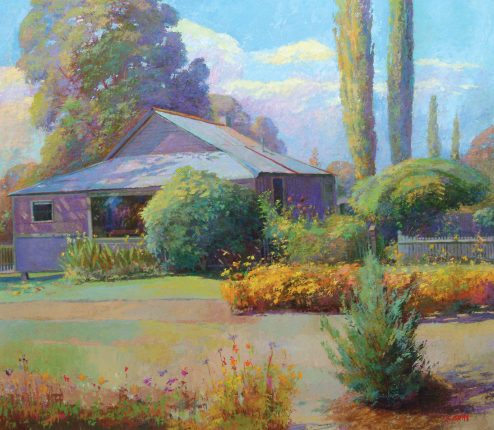 Britt spent his career exploring this. He says that "In our greatest artistic moment, we can merely create a weak illusion of God's great creative genius, but that tiny glimpse of God's beauty is more than enough to share with another soul."
The retrospective includes work created over the last 60 years. Many pieces are from his own private collection and have not been shown publicly before.
Regular gallery hours are Monday through Thursday 8 AM to 5 PM and Friday 8 AM to 4 PM.
For further information, visit the DSU Art Department's website at https://www.deltastate.edu/college-of-arts-and-sciences/art/ or call (662) 846-4720. For updates and announcements of upcoming events, follow Delta State Art Department on Facebook or join the email list.