Delta State University President William N. LaForge delivered a two-part message about the importance of change during his state of the university address at fall 2019 convocation.
"I would characterize the past year as one of growth, progress, and modest prosperity," he said. "For those of us entrusted with educating the next generations, considering and making changes are important enterprises and valuable parts of our responsibilities" this coming year, he explained to faculty, staff, students, city leaders, regional politicians, and community members assembled at the Bologna Performing Arts Center on the DSU campus on Aug. 15, 2019.
Watch the speech, titled "Change Is Upon Us," at www.livestream.com/DeltaStateUniversity.
Examples he listed of "changes, progress, improvements, successes" over the past 12 months included:
A new Digital Media Arts program, a collaboration between the Art Department and the Delta Music Institute, and occupying the renovated former Odealier Morgan Laundry building, features two state-of-the-art Mac labs, video production courses with a green screen area, 2D and 3D animation courses, and a voice-over booth. DSU will become the only program in the state to offer an animation concentration.
The widely influential Center for Interdisciplinary Geospatial Information Technologies became a Regional Support Office for the United Nations Platform for Space-Based Disaster Management and Emergency Response, the only one in North America.
The Commercial Aviation Program received a half-million dollar grant from FedEx for scholarships, and a flight training lab was established with a grant from American Airlines.
The Division of Languages and Literature launched an online M.Ed. in secondary English, the only one in the region.
Delta State hosted its first visiting Fulbright Scholar-in-Residence, Dr. Katarzyna Mackowska, a lawyer from the John Paul II Catholic University in Lublin, Poland.
DSU received a grant from the Mississippi Department of Education to participate in a Teacher Residency Program in which approximately 20 Delta State students from the Indianola area will teach in schools there to provide much-needed educators.
Zeigel Hall and Young-Maudlin Cafeteria underwent multimillion-dollar renovations.
Sodexo became DSU's new food vendor. It's providing a Starbucks and Burger Bistro for the food court and a convenience store in the cafeteria, all to open on the first day of fall classes.
By joining the Mississippi Optical Network, and by upgrading the wireless internet system in residence halls, DSU now boasts the fastest internet in dorms statewide.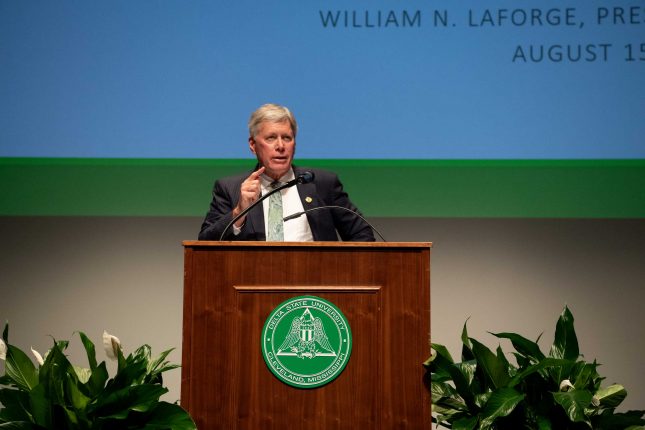 DSU also documented an impressive financial change, LaForge pointed out: it has a $175 million positive impact on the Mississippi Delta. That breaks down as $44 million in direct spending, $21 million in secondary spending, and $110 million in knowledge impact of $81 million in increased alumni earnings, $27 million in social benefits, and $2 million in cultural benefits. DSU supports 543 jobs: 441 full-time employees and 102 other people who owe their jobs to the campus. Delta State further provides more than 207,000 hours in community development activities such as health, education, and civic outreach.
DSU also recorded its best year in private fundraising. Gifts totaled more than $9 million. One example: the largest gift ever to DSU, $4 million from a charitable educational trust created by Dr. Fred Pittman. Another example: the largest gift for scholarships for Sunflower County students in DSU history, $300,000 from the Norma and Celian Lewis Charitable Remainder Trust.
Inversely, state funding for the new fiscal year is "flat," LaForge cautioned. In fact, DSU operates with much less state support now than a decade ago. "The revenue side of our budget for the current academic year is indicative of the absence of state support, while the expenditure side reflects rising costs, which are having to be supported by our six percent tuition increase," he said. Public regional universities nationwide also confront "declining regional demographics, students struggling to afford to stay enrolled, and growing competition from flagships and community colleges," he said. "Delta State is not immune to these challenges."
Fortunately, "We did receive badly needed bond fund authority for capital improvements, increases to match rising insurance and retirement expense costs, and funding for mid-level repairs on campus," he said, such as forthcoming roofing projects, HVAC improvements, and elevator upgrades.
To sum up, LaForge, DSU class of '72, referenced seven priorities from his spring 2013 commencement address, delivered two weeks into his administration. Celebrate faculty and maintain high-quality teaching; focus on students and their success; host an international conference on the blues; sponsor a major conference on racial reconciliation; establish creative international programs; bring business, government, and education leaders to campus to speak; and collaborate with businesses, governments, and communities to advance the Delta. DSU has done all of these—as ways of becoming "a regional university of national distinction," he said, through "thoughtful, intentional, committed change."
"But we can't stop here. There is so much more we should be doing and need to do as we support our visioning principles with new goals and objectives in the months and years ahead." Changes that are "well-considered" and "forward-looking" "require our collective talents and efforts," he said, "and I am convinced we can meet and exceed the inherent challenges if we apply ourselves and work together."