Tricia Walker, former director of the Delta Music Institute (DMI) at Delta State University, received the Lifetime Achievement Award from the Mississippi Writers Guild at its annual conference for working writers and aspiring writers held at GRAMMY Museum® Mississippi on July 26-27.
Walker, an acclaimed singer/songwriter, co-wrote the popular single, "Looking in the Eyes of Love," with Kostas Lazarides in 1990. Country music star Patty Loveless recorded it, and Allison Krauss earned a 1997 Grammy Award for Best Performance for her cover. Debby Boone and The Imperials also recorded Walker's material. Her eighth and latest CD, Crooked Letter, Crooked Letter Eye, came out earlier this year and was recorded at Fighting Okra Studios at Delta State.
"When thinking about possible recipients for the annual Lifetime Achievement Award, we look for someone who has demonstrated influence, innovation, patronage, resources, and dedication to writing, reading, listening, and speaking designed to stimulate other writers to further literary creativity and readers to explore worthwhile titles," said Susan Marquez, president of the guild. "Tricia Walker embodies all those attributes, and has been generous in sharing her talent and knowledge with others. For that reason, the Mississippi Writers Guild is proud to present Tricia with this year's Lifetime Achievement Award."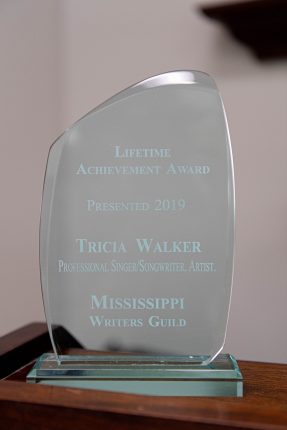 Walker spent 26 years in Nashville as a performer, music publisher, and music producer before coming to Delta State in 2006 to develop the DMI program. She retired from Delta State last June. Early credits also include being a backing musician with Connie Smith, Paul Overstreet, and a young Shania Twain. Walker performed at Robert Redford's Christmas Cantata at his Sundance Mountain Resort in Utah. In 1988, Walker started Women in the Round at the renowned Bluebird Cafe with fellow songwriters Karen Staley, Ashley Cleveland, and Pam Tillis; a version of the show headlines downtown Cleveland each year.
Walker delivered the keynote address and presented workshops at the guild's event, whose theme was "Language, Lyrics and Legacies: the Rhythm of Writing." She received the Lifetime Achievement Award at a luncheon on July 27 at the Hugh Ellis Walker Alumni-Foundation House on the DSU campus.
"I am very honored to be selected to receive this year's Lifetime Achievement Award by the Mississippi Writers Guild," said Walker, who earned a bachelor of music education from Delta State in 1974. "It's wonderful that the guild, with its mission of supporting writers and aspiring writers, is spotlighting the craft of songwriting within the literary arts at this year's conference, which is fittingly being held at GRAMMY Museum® Mississippi. The guild is doing great work all across the state in encouraging writers of all genres, which bodes well for continuing the great tradition of Mississippi turning out great writers."
The Lifetime Achievement Awards, celebrating Mississippians with deep connections to words, began in 2015. Civil rights pioneer James Meredith received the inaugural award. Other recipients include prolific novelist Greg Iles, bookseller John Evans, and mystery writer Carolyn Haines. The Mississippi Writers Guild was formed in 2005; there are 12 chapters statewide. This year was the first time that the guild held the conference in Cleveland. Other 2019 conference presenters included writers Ellen Morris Prewitt, Michael Farris Smith, Diane Williams, and Michael Hicks Thompson.