Twenty-nine percent of Bolivar County residents confront food insecurity, a lack of consistent sustenance. That dwarfs Mississippians across the state at 20 percent and people nationwide at 9 percent, according to the Robert Wood Johnson Foundation's 2019 County Health Rankings. Similarly, 24 percent of Bolivar County residents struggle with limited access to healthy food. That's more than double what Mississippians across the state grapple with at 11 percent and people nationwide at 2 percent, per the same source.
To help reverse these alarming developments, the Robert E. Smith School of Nursing at Delta State University is installing "Blessings in a Box" food pantries—eight boxes that measure 28 inches wide by 16 inches deep by 18 inches tall—throughout Bolivar County for those in need.
"Blessings in a Box operates on the honor system, and the premise is twofold," said Dr. Shelby Polk, director of the initiative and associate professor and chair of nursing at Delta State. "If you need it, take it. If you have it, give it. In other words, this is an opportunity to engage our neighbors to work together for a vital cause. No one should go hungry. And no one should be deprived of healthy food." She added, "This is all about trust in doing the right thing."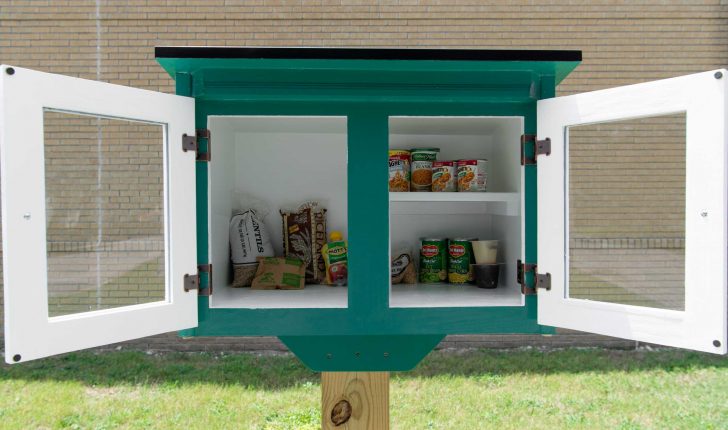 Recommended items to stock them with run the gamut of nonperishable food and liquids. (Toiletries also are on the list, along with small gear for winter like gloves.) The School of Nursing recently erected the first Blessings in a Box—outside its building at the corner of Oak Street and Third Street on the DSU campus. Funds for the project came from a Mississippi Nurses Foundation grant. Wall to Wall Woodworks, based in Meridian, fabricated the boxes, which are made from ¾-inch MDO marine-grade plywood with a factory painted steel roof, have two shelves, and contain glass doors.
Polk is developing partnerships with individuals, businesses, and organizations throughout Bolivar County to determine where to put the other boxes and to encourage people to participate, whether as donors or recipients. "Blessings in a Box is not a permanent solution but, rather, a temporary bridge when individuals and families experience hardships in life," she said.
To learn more about Blessings in a Box, contact Polk at spolk@deltastate.edu.