Delta State University's Fielding Wright Art Center opens its 2018-2019 season on Thursday, August 23th with an exhibition of Raymond Gaddy's Specimens.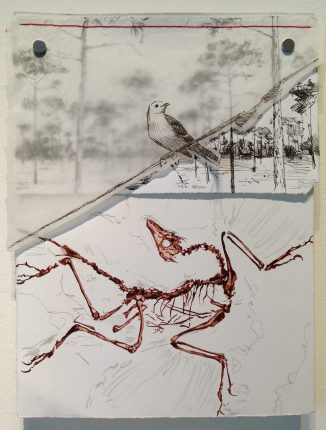 Raymond Gaddy grew up in southwest Alabama and his work is strongly influenced by the stories he heard there during his youth. According to Gaddy, there is a long tradition of Southern storytellers, historians of the mundane. Many of the South's great writers fit into this category. As a result of being immersed in this environment, he too has become a storyteller. Not being blessed with the gift of words, Gaddy presents his stories in visual form, creating tapestries that combine different images, materials, and textures that are linked together by colorful threads. The stories he presents are based on everyday experiences and observations because, as Gaddy puts it, "The best stories have a history, a provenance, which gives them some gravity."
Raymond Gaddy is an Assistant Professor of Painting and Drawing at Georgia Southern University. His artwork has been exhibited throughout the U.S and Europe and his work is in numerous collections including the College of Notre Dame of Maryland; The Savannah College of Art and Design; and the Library of Congress. Raymond is a recipient of a Pollock-Krasner Fellowship and a Joan Mitchell Grant.
Raymond Gaddy: Specimens will run from August 23 to September 27, 2018. An opening reception will be held on Thursday, August 23. 5:00-7:00 pm. Gallery Hours are Monday through Thursday 8:00 a.m. to 5:00 p.m. and Friday 8:00 a.m. to 4:00 p.m. The Gallery is closed on weekends, holidays, and during semester breaks.
For further information visit our website at https://www.deltastate.edu/college-of-arts-and-sciences/art/ or contact 662.846.4720. For updates and announcements of upcoming events follow Delta State Art Department on Facebook or join our email list.