The Delta State University National Alumni Association recently traveled to the Greater Jackson area, DeSoto County and Leflore County for each respective chapter's annual alumni event.
Held at the Jackson Yacht Club, faculty and staff in attendance at the Greater Jackson Chapter meeting were: Jeffrey Farris, Director of Alumni Affairs, Amanda Robinson, Assistant Director of Alumni Affairs, Matt Jones, Associate Athletic Director, Rick Munroe, Vice President of University Advancement and External Relations, Ronnie Mayers, Athletic Director, Dr. Vicki Bingham, Dean of School of Nursing, Abbey Atwill, campaign and research coordinator, Keith Fulcher, Special Assistant to the President for Donor Relations, Todd Cooley, Head Football Coach, Aja Buckhalter, Enrollment Manager, Doug Pinkerton, Director of HPER, and Craig Roden, Head Women's Basketball Coach. While there, the chapter awarded Savanah Germany, Demi DeWeese, Taylor Winslow and Shelby McCrory with scholarships for 2018/2019.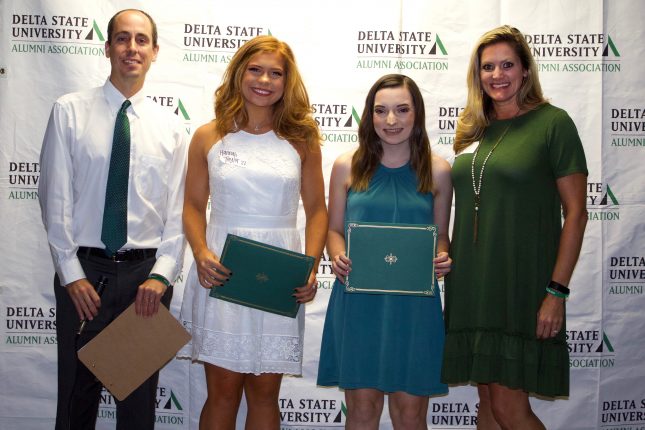 Sponsors for the Jackson event included Bank Plus, Belle Meade Medical/Dermatology, Madison Medical group/Dermatology Rheumatology, Fannin Lanes, Polles Properties LLC, Rankin County School District, Gladden/Ingram, CSpire, Avent-garde Strategies LLC and Century 21.
Mayers and Jones were both recognized at the Jackson meeting for their numerous contributions to Delta State athletics.
In DeSoto County, faculty and staff members Farris, Robinson, Munroe, Jones, Bingham, and Mayers attended the event held at Bank Plus Training Center. Hannah Taylor and Mary Allison Mayo accepted the scholarships for 2018/2019 for the chapter. Bank Plus, State Farm, Northcentral Electric Power Association, Daly Kirk PLLC, McAllister's, A&B Distributing Company, Lost Pizza Co. and Williams, Pitts, Beard LLC, all sponsored the event.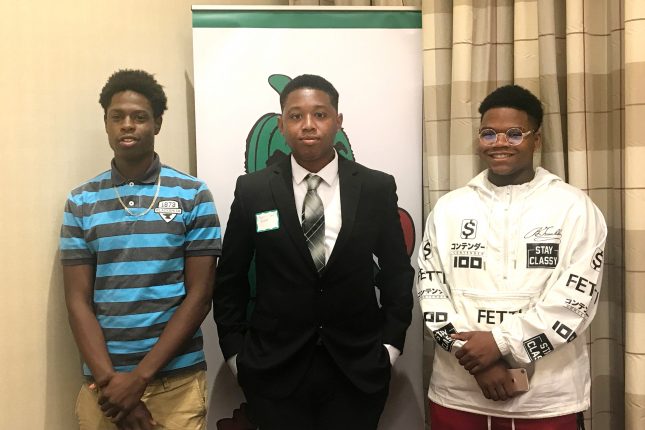 In Leflore County, faculty and staff members Farris, Robinson, Mayers, Munroe, Rebekah Arant, Dual Credit Coordinator, Jim Miller, Director of Career Services, and Aimee Robinette, Senior Alumni Secretary, were in attendance. A surprised and excited Tavoris Roach received the Leflore County Scholarship.
Over 400 alumni and friends attended all three events raising thousands of dollars for future Delta State University Alumni Association Scholarships. Farris discussed upcoming events such as Pig Pickin' and Homecoming, encouraged those in attendance to download the official DSU Alumni App and stressed the importance of supporting the alumni association.
"We appreciate the involvement of our alumni chapters," says Farris. "Their continued support enables our office to provide scholarships, host events and recruit new students to campus. We were pleased to be able to award scholarships to seven deserving students for the 2018/2019 academic year within these three particular chapters. That's what our alumni involvement provides – life-changing opportunities for students."
To view all chapter meeting social photos or other alumni association/university sponsored events, visit https://www.flickr.com/photos/dsualumni/albums.
To stay up to date on the Alumni Association's activities, follow these social media sites: Facebook (Statesmen Graduates), Twitter (@DSU_Alumni), LinkedIn (DSU alumni), Instagram (dsualumni) and You Tube (dsualumni1). Save the date for this year's Pig Pickin' (Sept. 21–22) and Homecoming (Nov. 9-10).