The Class of 2018 DSU Student Hall of Fame (front row, left to right): Cecilia Bercerril Nieves, Marwa Cherraf, Abbigail E. Myers, Meghan Rosemary Vogelsang, (back, l to r) Abulfaz Hajizada, Ashley Griffin, Victoria Lynn McDonald, and Taylor Michelle Johnson.
The Office of Student Affairs recognized student achievement May 4 at the annual DSU Student Hall of Fame banquet.
The DSU Hall of Fame began in 1972 as a way to recognize outstanding students. It is the single highest honor bestowed upon any Delta State student based on outstanding accomplishments in all phases of college life.
This year's inductees include: Marwa Cherraf, international business (El Jadida, Morocco); Ashley Griffin, biology and chemistry (Greenwood, MS); Abulfaz Hajizada, computer information sciences (Lankaran, Azerbaijan); Taylor Michelle Johnson, accounting (Long Beach, MS); Victoria Lynn McDonald, English with concentration in creative writing (Canton, MS); Abbigail E. Myers, marketing (Yazoo City, MS); Cecilia Bercerril Nieves. foreign language and international business (Cleveland, MS); and Meghan Rosemary Vogelsang, aviation management (Hernando, MS).
"The Student Hall of Fame is a wonderful way to recognize students who have been scholars and have exhibited a civic and social conscience throughout their matriculation at DSU," said Dr. Vernell Bennett, vice president for Student Affairs. "This honor affords students an opportunity to leave a legacy at DSU that will be recognized  forevermore. This year's inductees have distinguished themselves in the classroom, in student organizations, in athletics, and in the local community. We're proud of, and grateful for their many contributions to DSU and its community."
Also recognized at the banquet were Juwan Adonis Burney, a business management major from Arlington, TN, as the winner of the Wayne Blansett Award, and Brittany Kay Earls, a nursing major from Cleveland, MS, recipient of the H.L. Nowell Student Alumni Association Award.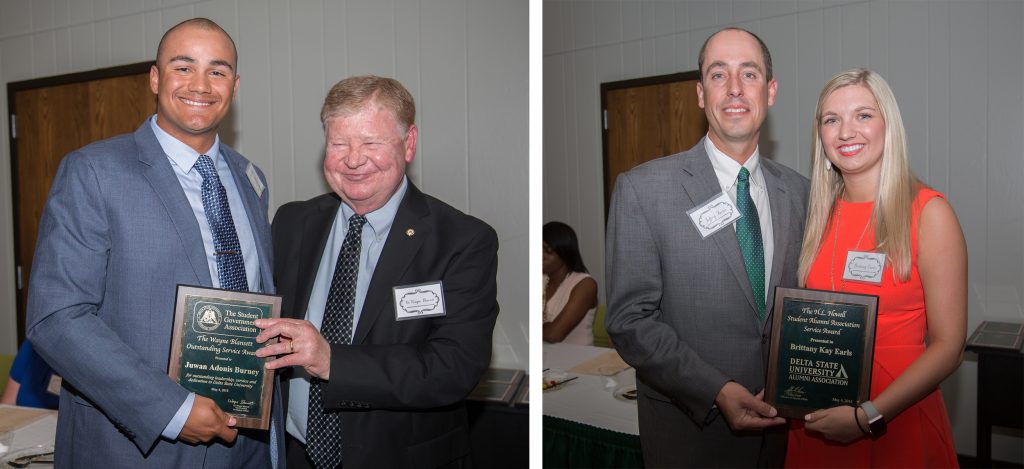 Left to right: Juwan Adonis Burney, Wayne Blansett, Jeffrey Farris, and Brittany Kay Earls.