Dr. A.H.M. Ali Reza, associate professor of biology at Delta State, is leading another international field course this winter in his homeland of Bangladesh.
The new three-credit study abroad course will take place during the winter intersession Dec. 11-23 and is open to students from any major. Community members are also welcome to sign up for the trip. The official name for the class is BIO 492: Tropical Field Biology.
The two-week field experience will provide hands-on practice in the ecology and conservation of unique wildlife species in two highly biodiverse ecosystems — Lawachara National Park, a tropical evergreen forest in northeastern Bangladesh, and the Sundarbans Reserved Forest, the world's largest mangrove forest in southwestern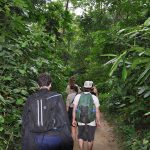 Bangladesh.
"The overall objective of the course is to introduce students to tropical wildlife and their habitats, taxonomy, natural history and biogeography, with an emphasis on the conservation challenges and prospects faced by these animals," said Reza. "Best of all, students will be offered truly unique field experiences not available in a traditional classroom."
Additional topics covered will include wildlife monitoring, evergreen forest ecology, mangrove forest and estuarine ecology, and applied conservation biology. During the course, theory will be delivered through lectures and in-house discussions, followed by hands-on activities to practice field methodologies.
The fee for the course is $2,600 and includes the following:
Food and lodging for the entire course
Round-trip travel to Sundarbans Reserve Forest and Lawachara National Parks within Bangladesh
Experienced instructors and field equipment
The course fee does not include:
International travel to and from Dhaka, Bangladesh
Travel or health insurance (proof of health insurance is required for course attendance)
Rubber boots, binoculars, flashlight and insect repellent (all of which are required to take this course)
Reza said those interested in attending should explore potential scholarship opportunities at https://fieldprojects.org/participate/courses-2/scholarships/. The deadline for scholarship applications is Oct. 15.
For more information, visit https://fieldprojects.org/course/bangladesh/. For questions and trip information, contact Reza at areza@deltastate.edu.
SaveSave