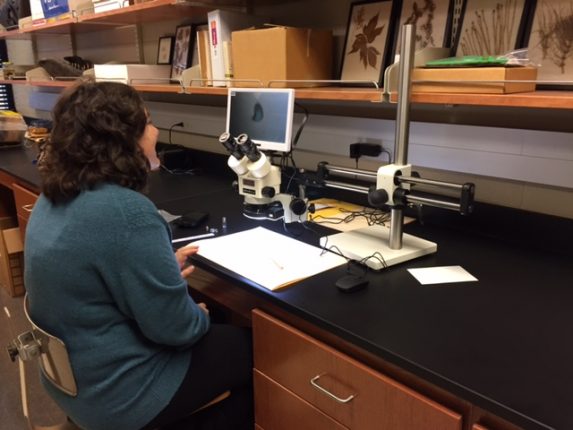 During the Fall 2016 semester, the Department of Biological Sciences acquired a new Meji trinocular zoom stereo-microscope on a boom stand with high definition capabilities.
Other features associated with this particular microscope are a LED (Light-emitting diode) ring illuminator, a HD Video Camera, and a widefield, high-eyepoint eyepiece. The instrument was purchased from Miller Microscope and paid for with funds from the National Science Foundation herbarium grant that is associated with the Mississippi Herbarium consortium and participating institutions.
One main goal of this grant is to digitize the entire 17,000 plus herbarium collection that Delta State University possesses.
Mississippi ranks in the top third of U.S. states for the predicted numbers of plant taxa, species, genera, and families per unit area. The documentation of most species is sparse so fulfilling this gap will make an important contribution to the Flora of North America.
Mississippi specimens contained in Delta State University herbarium collection as well as specimens contained in other local herbarium throughout the state (Mississippi State University, the University of Southern Mississippi, The University of Mississippi, and the Mississippi Museum of Natural Science) are being used to compile a checklist of all plant species that occur in Mississippi.
Dr. Nina Baghai-Riding said that the versatility of this microscope is helping with the identification of many problematic herbarium specimens.
"Minute details of flower, stem, and leaf parts can be easily analyzed and photographed and sent to other curators for identification if needed," she said. "In addition, this microscope has been useful in photographing specimens associated with other undergraduate environmental science projects that will be presented at the upcoming Mississippi Academy of Sciences in Hattiesburg on Feb. 23-24, including prey remains contained in Carolina Biological owl pellets and teeth of a monitor lizard."
To learn more about the Environmental Science program at Delta State University, contact Baghai-Riding @662-846-4797 or nbaghai@deltastate.edu.