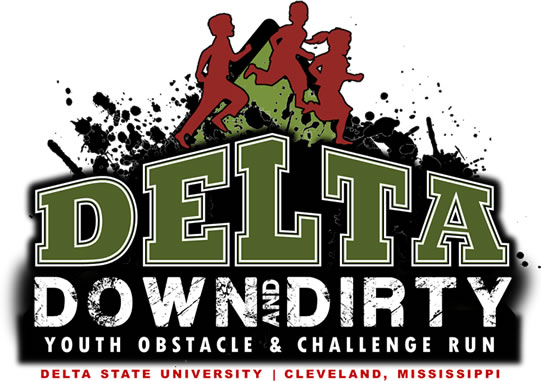 The first Delta Down and Dirty Youth Obstacle and Challenge Run will be held Sept. 28 at Statesman Park on the Delta State campus. The event is hosted by the Health, Physical Education, and Recreation (HPER) Leadership Program in Delta State University's College of Education and Human Sciences. Youth will have the opportunity to participate in an event similar to adult runs like the Tough Mudder, Warrior Dash and Spartan Race.

Youth ages 6 -14 will be eligible to run the obstacle and challenge course. The nearly 1-mile course will feature more than 25 challenges and obstacles. Age will determine the distance each participant will run: 6-8-year-olds will run 1 lap (1 mile); 9-11-year-olds, 2 laps (1.6 miles); and 12-14-year-olds, 3 laps (2.4 miles). The first wave of participants will begin at 11 a.m.

Participants will be given approximate race times at registration and will race in waves of 12 to 15 participants at a time. Waves will start roughly every five minutes, allowing participants ample time to reach and attempt each obstacle without interference or overloads.

All obstacles and challenges are "challenged by choice" — participants will be encouraged and allowed to try the challenge/obstacle, but they will not be required to complete them.

"This will be a fun, adventurous and positive event — one that I believe will inspire youth to be active with their lives. It will give them purpose for exercise and being fit," said Todd Davis, race director and developer.

"I have participated in many 5Ks, triathlons and other events, including two full Ironman Triathlons, and there is no other feeling like running through a finish line after a physical struggle," Davis said. "I want kids to feel a sense of adventure, a bit of struggle and then the emotional connection to finishing something physical, especially in front of their families, friends and spectators. It's an awesome moment."

Delta Down and Dirty will be a fundraiser for outdoor recreation opportunities in the Delta. Fees will be $20 for ages 6-8; $25 for ages 9-11; and $30 for ages 12 -14. Each participant will receive a finisher T-shirt and finisher medal.

Registration for Delta Down and Dirty is now open, and information on how to register can be found at www.dsuop.deltastate.edu. Course maps and training regimens are also available online.

Nearly 100 volunteers will be needed to man safety stations, act as spotters at obstacles, help with obstacle construction and design, aid with on-site registration and assist at the start/finish line.

The event is seeking obstacle sponsors at $150 for a small or partial obstacle and $250 for a large or full obstacle.

Several businesses and organizations in the Cleveland area have already committed to help with the event. Major sponsors include North Sunflower Medical Center, Boyle Lumber and Heidi's Monogram and Screen-Printing.

Other sponsors include Robinson Electric, Reese Eye Care, Cleveland Optical, Wade Inc., Case Inc., Williams Equipment, Bolivar Tire, Fleming Lumber, Children's Dental Clinic, Crave, Automark, Partnership Properties, Redline Fitness and Delta Dairy.

For more information about the event, to volunteer, or to sponsor an obstacle, contact Davis at 662.846.4570 or tdavis@deltastate.edu.