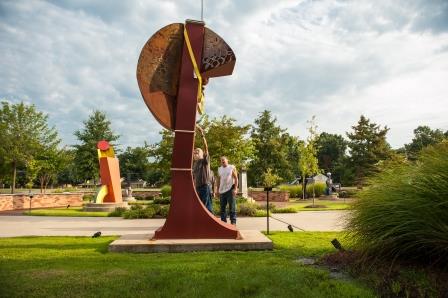 Nine new sculptures were installed Tuesday at the Delta State University Sculpture Garden, located on the north side of the Bologna Performing Arts Center (BPAC). The new pieces are entries for the 2013-2015 competition.
The new sculptures were created by talented individual artists, including: Glenn Zweygardt, "Homage to Gus," marble, granite, stainless steel, cast bronze and cast glass; Aaron Hussey, "Pharaoh," Cor-ten steel, bronze and stainless steel; John Ellis, "Contemplating Passage," stainless steel; Hanna Jubran, "The Cycle," steel and paint; Greely Myatt, "Zip Code," aluminum and concrete; Nathan S. Pierce, "Start Paddling," painted steel; Cliff Tresner, "Gesture," Cor-ten steel; Shawn Morin "Three Flames," cast bronze, cast stainless steel, granite and steel; and DeeDee Morrison "Magenta Charm," limestone, aluminum and LED lighting.
The works will be on exhibit until August 2015, at which time at least one of the sculptures will receive the purchase award and will remain at Delta State as a part of the Hazel and Jimmy Sanders Sculpture Garden Permanent Collection. The competition is made possible by the generous endowment from the Sanders family.
Hanna Jurban's 2011-2013 competition piece tilted "Rising Sun" will remain on campus after he was presented with the purchase award on Aug. 5.
Ron Koehler, chair of the Art Department, said the biannual competition has become an impressive tradition.
"We have a nice balance of work this year," said Koehler. "Looking at all the pieces, I think it's one of the best collections we've had since the competition began. We have a variety of pieces that go together well as a group — including several that play off one another."
In 2000, Delta State held its first national sculpture contest, which led to seven pieces being displayed in front of the BPAC for 18 months.
Previous purchase award sculptures have been established across campus to provide a unique artistic influence, while also providing valuable, hands-on education for students studying sculpture.
Koehler added that the garden is a great outdoor learning lab, also providing students with opportunities to meet sculptors.