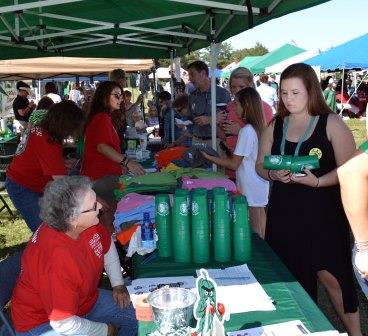 The Delta State University Alumni Association is gearing up for the 28th Annual Pig Pickin' event to be held Sept. 27-28 at Statesmen Park.
"The 28th Annual Pig Pickin' will give an array of opportunities for all to enjoy the campus of Delta State University," said Jeffrey Farris, director of Alumni Affairs. "Our very own Statesmen Park will host another family focused Pig Pickin' as we all prepare for the football game at Parker Field/McCool Stadium."
The event will kick off Friday, Sept. 27 at 6 p.m. with the Polk's Meat Sponsor's Dinner in the Hugh Ellis Walker Alumni Foundation House. The Young Alumni Tailgating Party will be at Statesmen Park at 7 p.m., and the Barbecue Competition Cook's Meeting will begin at 8 p.m. followed by entertainment.
Every year, the key element of Pig Pickin' is the Cook Team Competition. This year's competition will be divided into two segments. Friday night will be auxiliary categories, which includes booth decorations, sauce, beans and sausage-any-way. Saturday will be the championship categories, which includes chicken, ribs and pork. Trophies or plaques and cash prizes are awarded to first, second, and third place finishers in almost every category, and the grand prize of $500 and a trophy will be awarded to the team with the highest combined score of the three championship categories.
"We're very excited about the restructuring of the Pig Pickin' 2013 BBQ competition," said Dana George. "Whether you're a BBQ rookie or a seasoned competitor, we hope you'll consider joining us for Pig Pickin' 2013."
For more information about the competition, contact Dana George at 662-846-4300 or dgeorge@deltastate.edu or visit www.deltastategiving.org/alumniassociation to print off the application.
Many different activities will take place on Saturday, Sept. 28. The 22nd annual Delta State Triathlon begins at 8 a.m. at the Aquatics Center. From 1 p.m. to 5 p.m., the Kids Zone will be open at Statesmen Park along with Alumni and Friends Tailgating and entertainment provided by Delta Music Institute bands Ol' Skool Revue and Delta RoX. The Pig Pickin' BBQ serving line will be open from 3 p.m. to 5 p.m., and there will be a pep rally at 3:30 p.m. in Statesmen Park. The BBQ competition winners will be announced at 5 p.m., and the Delta State football team will kick off against Florida Insitute of Technology at 6 p.m. at Parker Field/McCool Stadium..
Barbecue tickets are $6 per plate and can be picked up at the Alumni-Foundation House or online at http://www.deltastategiving.org/purchasepigpickinticketsonline. Football tickets are available at Chadwick-Dickson for $10, and t-shirts can be purchased for $15.
The first 500 registered attendees at Statesmen Park will receive a souvenir 28th Annual Pig Pickin' stadium cup. Businesses or individuals can be sponsors of Pig Pickin' at the $150, $300, $500, $750 or $1000 levels.
The full schedule of Pig Pickin' events will be released at a later date. For more information, contact 662-846-4660 or visit the website www.deltastate.edu/alumni. Follow the Alumni Association on Facebook: Statesmen Graduates; Twitter: @DSU_Alumni; Tumblr: www.dsualumni.tumblr.com; LinkedIn: DSU alumni; You Tube: dsualumni1.