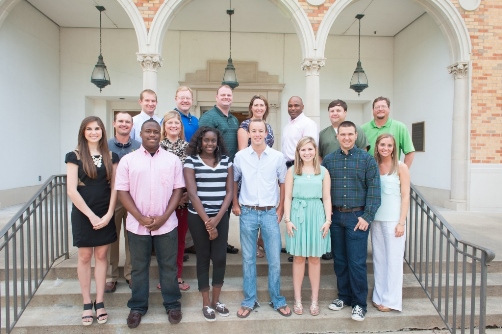 The Delta State University Alumni Association's Bolivar County Chapter recently presented the annual Liza Vaughn Memorial Scholarship to incoming students from the Bolivar County area. Each student will receive $250 from the Chapter, and this year's recipients are: Trace Bray, Tamera Brown, Thomas Hunt, Tyan Nash, Maya Richard, William Weeks, Kourtney White, Noah York and Kaci Simpson.
"We are so excited to welcome these Bolivar County students to Delta State," said Ann Marie Pate, president of the Bolivar County Chapter. "Thanks to all the volunteers and attendees who made our spring event such a success this year, we have been able to offer more scholarships than ever before. It is an exciting time to be associated with Delta State!"
The scholarship is named for Liza Vaughn, the former assistant director of Alumni Affairs, who lost her battle with cancer last April. The Bolivar County Alumni Chapter raises money for the scholarship through the annual Alumni Event and Silent Auction.
"Alumni volunteers are essential to growth of our alumni chapters across the state, region and national scene," said Jeffrey Farris, director of Alumni Affairs. "Bolivar County has not only made strides in attendance, but the chapter has also been able to grow the amount of scholarships they're giving to students from their area."
To donate to the Liza Vaughn Memorial Scholarship, contact an Alumni and Foundation staff member at 662-846-4660, or visit the website www.deltastategiving.org. Follow the Alumni Association on Facebook: Statesmen Graduates; Twitter: @DSU_Alumni; Tumblr: www.dsualumni.tumblr.com; LinkedIn: DSU alumni; You Tube: dsualumni1.
Photo: Front L to R: Kourtney White, Tyan Nash, Tamera Brown, William Weeks, Kaci Simpson, Noah York, Diana McClemore (Admission Recruiter Delta Region); Middle L to R: Gary Crews (Bolivar County Chapter Secretary/Treasurer) Ann Marie Pate (Bolivar County Chapter President); Back L to R: Chris Gaines (Director of Recruiting), David Griffith (Bolivar County Chapter Committee Member), Will Bradham (Bolivar County Chapter Vice President), Libbi Logan (Bolivar County Chapter Committee Member), Patrick Davis (National Alumni Association Board Secretary), Paul "Bubba" Mancini (National Alumni Association Board Member), and Eddie Vaughn; Not Pictured: Trace Bray and Thomas Hunt.