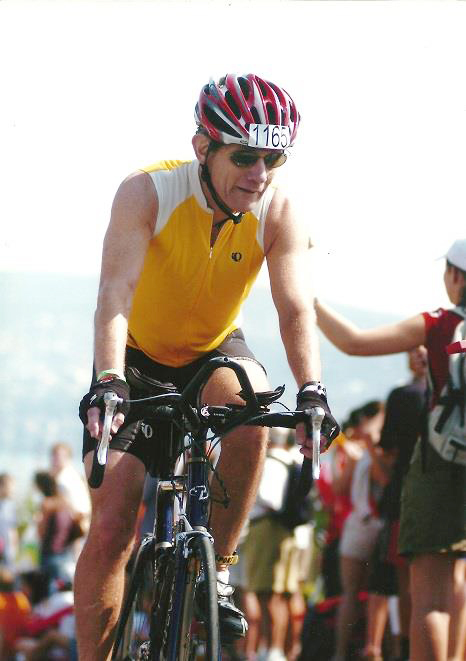 In a test of determination and strength, one Delta State alumnus reigns supreme.
Dr. John L. Pendergrass '65 made it his goal to conquer six triathlons, on six continents all within his sixties — and the dedicated endurance athlete accomplished the impressive feat.
"I don't really know where the passion comes from," said Pendergrass, an ophthalmologist who now lives and practices in Hattiesburg. "If you are dedicated to triathlons, it becomes a part of your lifestyle. You get out what you put into it."
The Clarksdale native has traveled the world thanks to his love of long distance swimming, biking and running, but another achievement has Pendergrass just as proud.
He recently published his autobiography "Against the Odds: The Adventures of a Man in His Sixties Competing in Six of the World's Toughest Triathlons Across Six Continents."
From the deserts of Arizona to the bush of South Africa, from the beaches of Brazil to the coasts of New Zealand and beyond, Pendergrass said writing about his journeys was just as challenging.
"I wanted the satisfaction of seeing that I could complete the triathlons, but I also wanted to see if I could write this book," said Pendergrass. "I'm very proud of having achieved both."
The doctor has certainly come a long way since growing up in a low income, single-parent household in the Delta.
"I guess growing up like that teaches you responsibility, and I think that relates directly to my training," he said. "If you want something, you have to work for it — nobody is going to just give it to you."
Pendergrass said he learned more about responsibility when he began attending Delta State as a biology student, citing Dr. Jesse White and H.L. Nowell as major influences.
Pendergrass was also one of the charter founders of Phi Kappa Alpha at the university.
"I was very lucky to be able to attend Delta State. I almost had to go to junior college because I didn't have enough money. The strong science department prepared me for medical school when I attended The University of Mississippi Medical Center."
The doctor also went on to serve as a flight surgeon for two years with the United States Air Force.
"I have very positive feelings about Delta State and the opportunities it gave me. I can't overemphasize how important Delta State University is to my life."
Pendergrass said he's also been following a prominent endurance athlete who currently leads the green and white — none other than Delta State President William N. LaForge.
"I'm very aware of his distinguished career in Washington and also that he's a very accomplished runner," he said. "I was delighted when he was named the new president because I know he's an organized person who gets things done."
LaForge, who has run over 60 marathons, can relate with Pendergrass on a number of levels. The president said he was honored to see a fellow alumnus pen a book about his long distance athletic triumphs.
"As a marathoner and a former triathlete myself, I am most impressed with Dr. Pendergrass's feats as well as his book 'Against the Odds'," said LaForge.
"To complete one Ironman is amazing, but to complete six on different continents is over the top," added LaForge. "We are very proud of him as a Delta State alumnus."
Pendergrass, now 68, has been slowed recently by a knee injury, but said the plan is to keep competing in triathlons as long as he can.
He has finished more than 50 triathlons, about 30 marathons and traveled hundreds-of-thousands of manpowered miles when you add up the running, swimming and biking.
"It's been a great experience," said Pendergrass. "Wandering around the world, bravely bringing up the rear in a half-dozen races, eating anything and everything placed in front of me."
"The whole thing hasn't been easy, but I'm grateful for every minute of it."
Follow all of Pendergrass's recent news on his Facebook page at: www.facebook.com/pages/Against-the-Odds/520269624657438.