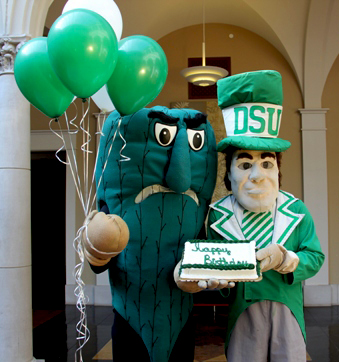 The Delta State University Alumni Association recently launched a birthday program for alumni, friends, students, faculty and staff. The Alumni Association will send personalized e-greetings through email and Facebook ads to celebrate birthdays.
"The personal birthday email and Facebook birthday ad is an entertaining way for our alums to know we are thinking about them during a special time in their life," said Jeffrey Farris, director of Alumni Affairs.
To make sure you and your loved ones will receive your birthday email, please send your name, date of birth and email address to alumni@deltastate.edu. In order to receive the birthday ad on Facebook, make sure to "like" the Alumni Association's page – Statesmen Graduates.
For more information, contact the Alumni Association at 662-846-4660 or www.deltastate.edu/alumni. Follow the Alumni Association on Facebook: Statesmen Graduates; Twitter: @DSU_Alumni; Tumblr: www.dsualumni.tumblr.com; LinkedIn: DSU alumni; and YouTube: dsualumni1.