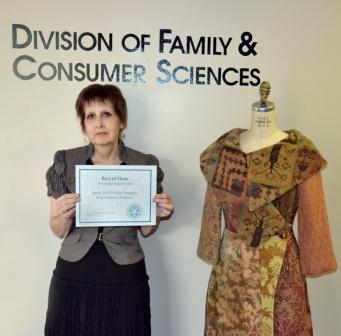 Delta State faculty member Dr. Jan Haynes recently won Best of Show in the Juried Apparel Design Competition at the 104th Annual Conference and Expo of the American Association of Family and Consumer Sciences in Houston, Texas.
Haynes is Chair of the Division of Family of Consumer Sciences and professor of Fashion Merchandising in the College of Education and Human Sciences (COEHS).
Participants in the competition submitted abstracts and photos of entries in the categories of apparel design (clothing and wearing textile art), art and design (fiber and non-fiber), interior design/housing and textile art, and other creative areas. There were 85 entries submitted to the annual competition with only half accepted to be shown in the exhibition.
Haynes' garment, made from upholstery samples, was showcased for more than 700 family and consumer sciences and allied professionals attending the conference. Haynes' recognition is a reflection of her work in the classroom and for the COEHS.
The fashion merchandising program at Delta State awards a Bachelor of Science degree in family and consumer sciences. Emphasis is placed on business administration and art. For more information, please visit www.deltastate.edu/fashionmerchandising.