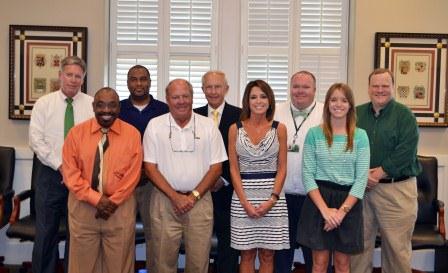 Delta State's Presidential Inaugural Committee held its first meeting Friday to begin preparations to formally induct President William N. LaForge as the university's eighth president November 1. The event is scheduled to start at 10:30 a.m. in the Bologna Performing Arts Center with U.S. Senator Thad Cochran as keynote speaker.
Chairing the committee is Dr. Kent Wyatt, President Emeritus. Wyatt has served in this role previously, supervising the inauguration of Delta State's fourth president, Dr. Aubrey Lucas.
"The inauguration [ceremony] is the highlight of the life of the university," stated Wyatt. "We are going to make this the best celebration Delta State University has ever had."
Coincidentally, President LaForge was the student body president at the time of Dr. Lucas' Inauguration. During the meeting, President Emeritus Wyatt presented President LaForge with a copy of the "Greetings from the Students" that LaForge delivered during Dr. Lucas' Inauguration April 29, 1972.
In the letter, LaForge said, "We the students of Delta State College warmly accept you into our midst as the new leader of our college community. We sincerely join with you in your hopes and aspirations for progress at Delta State, and we pledge to you our loyal support." Forty-one years later, a similar letter will be presented to LaForge.
The Investiture Ceremony will be preceded by a weeklong order of events including a series of lectures hosted by each of the university's Colleges/School, student activities and community events. Festivities are scheduled to begin Sunday, Oct. 27, and will conclude with the university's Homecoming Saturday, Nov. 2.
"I am honored that the Committee has chosen to celebrate my Inauguration in this way," said LaForge. "However, I want this inauguration week to really showcase Delta State and all of the wonderful programs and people that make this university so special."