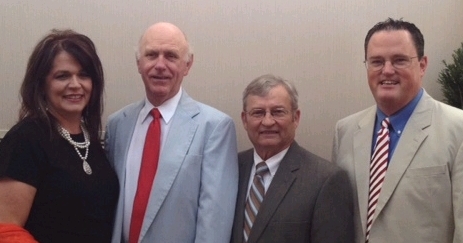 The Mississippi Chancery Clerks Association (MCCA) recently elected Delta State Alumnus Arthur Johnston as secretary-treasurer during its 90th Annual Convention in Tupelo.
Johnston has served as Chancery Clerk in Madison County since 2004. He graduated from Delta State in 1989 with a Bachelor of Arts degree in political science and a minor in economics. Johnston has also served as past president of the National Alumni Association for Delta State.
"My education and overall experience at Delta State certainly prepared me for this type of work. In particular, I think my involvement in student government and in the Greek system helped me develop the interpersonal skills and leadership qualities that allow me to function in the intricacies of county government," said Johnston.
The Alumni Association takes pride in the success of past Delta State students. Alumna Paula Sykes served as president of MCCA from 2012-2013. She graduated from Delta State in 1982 with a bachelor's degree in business administration in accounting. She currently serves as Chancery Clerk in Sunflower County.
Delta State strives to offer classroom experiences and academic excellence that prepares individuals for honorable, elected position.
Johnston said, "I often think back to Dr. Bill Pennington's philosophy classes, Dr. Dan McQuagge's writing courses, and Prof. Dorothy Shawhan's journalism courses. Those all served me well, as did everything I took in the history department, especially under Drs. Curt Lamar and James Robinson."
For more information on the Alumni Association, contact 662-846-4660 or alumni@deltastate.edu. Follow the Alumni Association on Facebook: Statesmen Graduates; Twitter: @DSU_Alumni; Tumblr: www.dsualumni.tumblr.com; YouTube: dsualumni1; LinkedIn: DSU alumni.