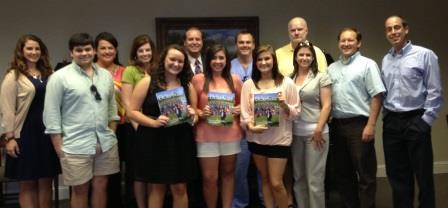 The Delta State University Alumni Association will hold its annual Desoto County Alumni gathering Saturday, August 10, at the BankPlus Training Center in Southaven. The event will begin at 6 p.m. with a social hour followed by campus updates from President William N. LaForge and the Alumni and Foundation staff members.
"We're looking forward to another great event in Desoto County," said Jordan Thomas, assistant director of the Alumni Association. "The committee does an excellent job each year reaching out to alumni in the area, securing sponsorship dollars and silent auction items."
The silent auction proceeds go directly to the Desoto County Alumni Scholarship fund, which is awarded to students in the DeSoto County area who will begin studying at Delta State University in the fall. This year's recipients are Madison Ennis, Mollie Evans and Meaghan Vogelsang.
"It's been an honor to serve this past year as the Desoto County President," said Drue Howarth. "I encourage all those connected with Delta State University to attend this year's meeting in Southaven."
Each year, the committee chooses an area of campus to be recognized at the event. This year, the committee will recognize the Delta Music Institute (DMI). Faculty from the DMI will be at the event to give updates and information on the program.
Invitations for the event were mailed out to Desoto, Tunica, Tate, Panola, and Marshall Counties as well as the Greater Memphis area. Sponsors for this year's event are Ryan England and Stephanie Morrison with State Farm, BankPlus, BancorpSouth, Renasant Bank, Community Bank, A&B Distributors, Sycamore Bank, and Grapevine Liquor and Wine.
Attendees can register and pay in advance online at www.deltastategiving.org/alumniassociation/eventreservation.
For more information, contact the Alumni Association at 662-846-4660 or www.deltastate.edu/alumni. Follow the Alumni Association on Facebook: Statesmen Graduates; Twitter: @DSU_Alumni; Tumblr: www.dsualumni.tumblr.com; LinkedIn: DSU alumni; and YouTube: dsualumni1. Join the Facebook event page at https://www.facebook.com/events/550874904950278/.