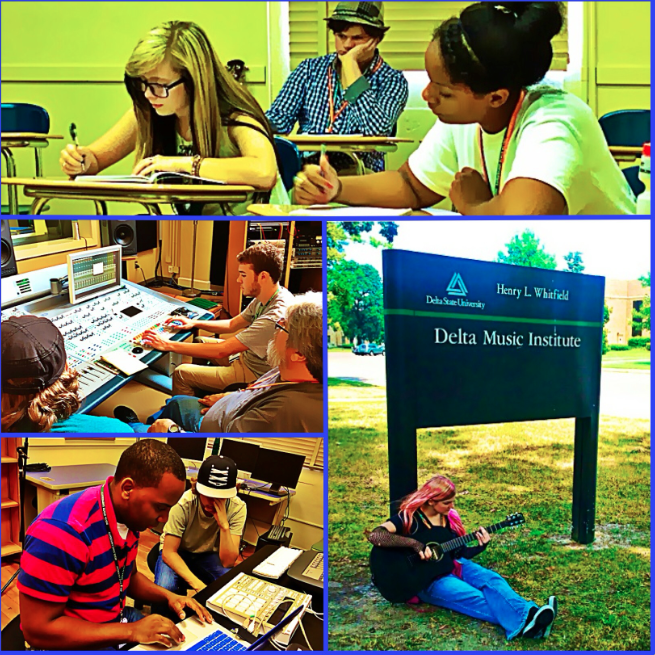 Students attending the seventh annual Delta Music Institute (DMI) Summer Camp will present a free concert of commercial music Saturday, July 13, at 7 p.m. in the Bologna Performing Arts Center (BPAC) at Delta State. The concert will include material from several commercial music genres, along with original songs created by the camp's songwriting students.
Twenty students ages 15-18 from Mississippi, Tennessee and Georgia are participating in the 2013 DMI Summer Camp. The intensive six-day residential camp experience explores three music career tracks, including audio engineering, band performance and songwriting that are integrated together. The camp wraps up with a recording session at the DMI studios and a showcase performance at the BPAC. Instructors for the camp are DMI faculty members along with visiting music industry professionals.
The concert Saturday evening is free and open to the public. Supporters of these talented young musicians are encouraged to attend and enjoy the show.
The Delta Music Institute is an independent center of study under the College of Arts & Sciences at Delta State University, offering a B.S. in Music Industry Studies degree. The focus of the DMI is to provide students with a broad and thorough education in the technological, creative, and business areas of the music and entertainment industry. For information, contact (662) 846-4579 or visit http://dmi.deltastate.edu.